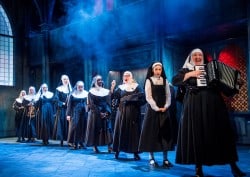 If, like me, you love Sister Act the film then you might be looking to Sister Act the musical hoping for religious-inspired renditions of Motown tracks ('My God', I'm looking at you here!) or some soulful slants on well-known hymns.
Bless you, my child, for you will not find what you seek on stage at the Leeds Grand Theatre this week.
I've said it many times before, but it bears repeating, because it's so profoundly poetic:
You can't just plonk a film on stage and make it work as a play or musical.
(I was joking about the 'profoundly poetic' bit, by the way…)
However, what you will find is an all-new musical theatre version of the tale of not-so-successful singer turned sometime sister Deloris Van Cartier – brilliantly played by Alexandra Burke.
Gosh, she can belt out a tune and her performance for a comedy musical theatre is spot on in my book.
You'll also find a wonderful collection of singing nuns (murmurs of "It's about time" were heard when they began, proving my hunch that many of my fellow audience members were expecting to see the film on stage (see above!).
The fact that we're there to see a different telling is established from the beginning with a clear marker that the action is set in the 1970s, rather than the 1990s, and this paves the way for some simply fabulous costumes and tracks inspired by the era.
Being set in the seventies also allows for some language of the era to creep in – particularly in relation to race – that I'm not sure we needed to be reminded of, even in a period piece. But then I suppose that's just a sign of the times from that decade, and it definitely made me think in the context of current events as well.
But back to the music: There are some cracking tunes to dance in your seats to from 'Fabulous, Baby'! to 'Take Me to Heaven' and 'Raise Your Voice', and there are some numbers that really make you think about life, religion and relationships as well – which is pretty impressive for a comedy musical, I'd say!
Alexandra Burke is truly terrific and all other cast members are performer/musicians with instruments played live on stage as part of each number, which is always a treat to watch.
If you love the seventies and all that it brings, and you love the story of Sister Act, then this is one for you.
Sister Act the musical is on at Leeds Grand Theatre until Saturday 27th August and then continues on tour – including Manchester next week and Sheffield next year – well into 2017.