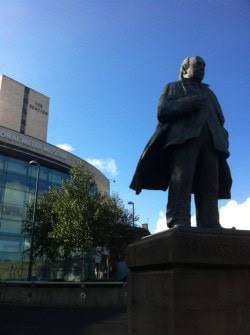 The first rule of any event at Bradford's National Media Museum is "Turn up early"; and the second rule is "Have a pocket full of 10 and 20ps." The Games Lounge is where gentlemen (and ladies) of a certain age can get out of the way of the throngs of families to reminisce about days and weeks of misspent youth parked in front of a Megadrive, Spectrum or take-away coin-ops. Thus, my visit began.
Valiant trans-global battles in Street Fighter, fending off Space Invaders and hurtling round the track on Mario Kart accomplished, I headed off to the wonderful Cubby Broccoli theatre, with its compactly friendly atmosphere and plush seats, taking my place for JB Priestley's 'Johnson Over Jordan', the teleplay not seen in over 50 years.
My first experience was to be told by a clipped voice that I'd sat in front of someone so they couldn't see the compere introducing the film – a saddening and depressing event which happens when LS29 (wen mest prayzume) and BD1 combine, and made me wish an inspector would call for her.
Nevertheless, I settled into the preamble and the comfy chair, allowing my appetite to be whetted with nuggets such as the critical acclaim and derision which followed the play's run in 1939, Priestley's belief that this was his finest work, the differences between the play and the teleplay (the former's masks, choreography, lighting and Benjamin Britten's score unable to be matched by the limitations of the latter's medium, and made it one of the most underperformed plays of its stature, being revived professionally only once by Sir Patrick Stewart at the West Yorkshire Playhouse, demonstrated by my difficulty now in researching and writing about the play and its characters), and the oohs, ahhs and complementary mumblings as the cast list was read out (my interest peaking further as I recognised only a couple names).
The cast list, of which I did not understand the excellence nor luminescence, included Sir Ralph Richardson (given a two week sabbatical from Dr Zhivago to allow filming) as Robert Johnson, Paul Eddington as Johnson's friend (cousin?), and Hannah Gordon as Freda, Johnson's daughter, who had made her way to the screening for a Q&A session after the show. (Any interesting additions to this are welcomed in the comments box below.)
"After some music, which begins fiercely and frighteningly and then sinks into a funeral melancholy, we find ourselves at the hall of Robert Johnson's house."

JB Priestley Johnson Over Jordan
[SPOILER ALERT] The teleplay begins with Johnson's family and friends upset at his sudden passing before moving into a dreamy, obscure sequence which confuses the audience, characters moving in and out, set and lighting changing to demonstrate that Johnson is somewhere else, somewhere unusual, and the idea that he is in limbo becomes apparent.
Johnson's first trial (the nod to Kafka entirely warranted) is his Examiners who interrogate his knowledge, worth, history, philosophy, beliefs and more, demanding answers to quick fire questions, confusing him, us and everyone.
The play, though, becomes stranger and stranger before any confusion is lifted, with Johnson overcoming fears to get hold of the money needed to leave (leave where, we are always unsure) before blowing it all in a bar on wild women and drinks for an old, dead colleague.
With Mrs Johnson's relief, though, comes a change in Johnson's circumstances: the mood lifts, his darker side is repelled, and he is allowed, briefly, to relive the past, dipping in and out whilst keeping the sum of his knowledge and experience. Playing with time was one of Priestley's joys, and this work does it brilliantly with a brightening subtlety and joy.
He is given a window on his life and relives the most wonderful views: his honeymoon, his children and his first garden. The wonder in Johnson's face and words forced me to wonder what I would see in his place, and broadly smile at that thought.
The past, though, melts away and Johnson is left alone at the dance where he met his wife, anger and disappointment rising at the theft… until he hears his wife's voice, an echo from his home after his death, asserting that she'll be fine.
Contented, happy, he walks off to whatever's next, knowing that all's well with what he left behind.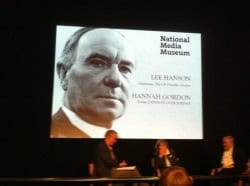 The applause we gave were warm, lengthy and deserved. As Hannah Gordon would go on to say, she'd forgotten it was black & white, and, at times, so did I: the strength of the story, the writing and the performances really pulled me in to Johnson's afterlife, and the scratchy, spotty 16mm film was smoothed out with my suspension of disbelief, the actors bringing colour to Priestley's texture.
Hannah Gordon, who played Freda, took her place on the stage with Lee Hanson, Chairman of the JB Priestley Society. Instantly I remembered her from somewhere foggy in my mind, the glint in her eye reigniting a delicious crush from several moons ago, giving me yet another reason to smile. Her discussion was wide ranging, fascinating, and made the actors come alive as real people rather than faces from the silver screen. A wonderful story of her telling a raunchy story which so engrossed Paul Eddington that he crashed his car made us all laugh; her admiration for Sir Ralph Richardson endeared her and him further to us; and the tear in her eye, magnifying the natural sparkle therein, brought her closer to our hearts.
"Fountains. I doubt if I ever saw one, even the smallest, without some tingling of delight."

JB Priestley Delight.
All too soon, I passed Priestly on his plinth outside the National Media Museum, watching, as ever, over his city. I walked through City Park, seeing the silent statues waiting for nightfall before they can explode into colour for Bradford Shine, and watched a woman playfully investigate the mist steaming out of the ground. The setting, I mused, suited reflections on Johnson Over Jordan perfectly, and would delight Priestley – if only they could turn him a little so he watches over City Park's fountains instead of the former police station.
I walked, desperately happy, though Bradford, smiling at the shops, cafes and bars springing up as, maybe, just maybe, we begin to see the regeneration we've waited so long for.
"Grim but not mean."

JB Priestley Bright Day.
At Forster Square, a replacement bus service awaited me, so I got in a taxi. I asked about the city's Taxi Ambassador programme and was met with the sonorous, enlightened riposte of "What a load of f-ing b-lcks that is!" followed by a diatribe against City Hall, Health & Safety, the Highways Agency and more. I wallowed delightfully in his reply, grinning through every expletive strewn sentence, knowing that Priestley would not only have enjoyed the journey every bit as much as me, but would put that taxi driver in every subsequent play and carve out chapter for him in "Delight".
"You are my love, the wonder and terror and delight of my heart."

JB Priestley Johnson Over Jordan.
Just before I left the house, I'd seen a reply to a picture I'd retweeted. "Bradford isn't beautiful" it asserted. Bradford's beauty had surrounded me, in many guises, all afternoon, and I firmly believe Priestley would have seen, felt and rejoiced in that beauty too.