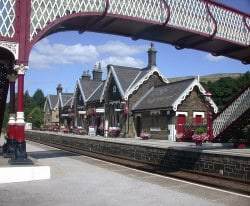 I've been in love with stories, telling them and listening to them, for as long as I can remember. I've also been in love with trains and particularly stations since I was about three years old. My hometown's station buffet bar was run by a close family friend and it was one of the pubs I was raised in – but that's another story for another day…
Anyhow, I guess it's why, three years ago, I was excited to trot off to meet the director of the Settle Storytelling Festival to find out more about her and it, and why I nearly burst when I arrived in the beautiful Settle railway station.
True, Settle station doesn't have the buffet bar that Stalybridge boasts (yet), but by crikey it beats most stations in the country, if not the world, when it comes to the view!
Just less than an hour away from Leeds, but feeling like you've been transported to another time and certainly pace, Settle is one of the jewels in the crown of the Dales and I highly recommend you visit as soon as you possibly can!
If you happen to be free this weekend and have a few pounds for the train fare, then it would be a jolly good time to go, not least because (and I think you might know where I'm going with this!) it's the Settle Storytelling Festival from Friday until Sunday.
I was lucky enough to go last year and see Dominic Kelly perform his captivating show The Devil's Purse, and I'm delighted to say that he's back again this year with his show The Trickster on Saturday night.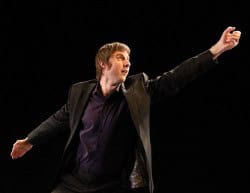 There are many other delights and highlights on offer, of course, as Settle bursts at the seams with trails, talks and tipples, and I'm pretty sure you'll find something for everyone on offer. Quite an achievement by Sita Brand, festival director, and her team when you see what they have created and sustained – and where.
Oh, and don't blame me if you fall in love with the place and want to move there – but maybe that's just me. Again, perhaps another story for another day…
@clancywalker