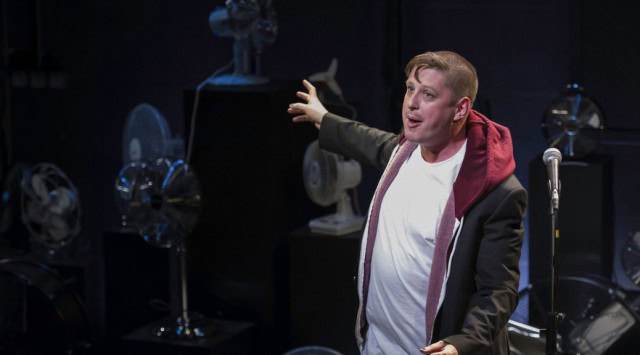 Wining the Fringe First award in 2014 I had high hopes for men in the cities and I was not disappointed. Written and performed by Chris Goode the play takes you through a roller coaster of characters and emotions.
Chris starts shockingly describing a common urban sound of a vixen mating. This leads to the morning after where, using recurring alarms, he introduces us one by one to a multitude of different characters. We get a relaxed sense of an early morning start with the news of the killing of Drummer Lee Rigby over the radio and newspapers, and the incident and subsequent events which follow, are used throughout the play. Creating a link to reality that gives us a link to the events happening and a sense of a much bigger world than that of just the characters immediate surroundings.
The morning routine is quickly changed when one of the characters commits suicide, followed by a young boy greedily watching porn before school. This stark change in characters, emotion, comedy and tragedy follows throughout the play leaving you emotionally spent but with a lot of food for thought.
Using changes in spotlighting, sounds and at times fans placed on stage we get sucked into each character's day, a significant day for some, and just one more day to live through for others. Chris Goode uses great mike skills and a fantastic storytelling ability to create characters that give you a contrasting view of masculine life in general and utilises the London skyline to great humorous effect.
From a working-class man nearing retirement who no longer knows whose side he's on, to a ten-year-old boy cheerfully obsessed with pornography and American punk, Men in the Cities presents fractured snapshots of dozens of seemingly disconnected lives that together offer a challenging but radically humane portrait of how we live now.
Men in the Cities reviewed by Simon Bedford at West Yorkshire Playhouse on 5 November see http://www.chrisgoodeandcompany.co.uk/show/men-in-the-cities/ for tour dates.