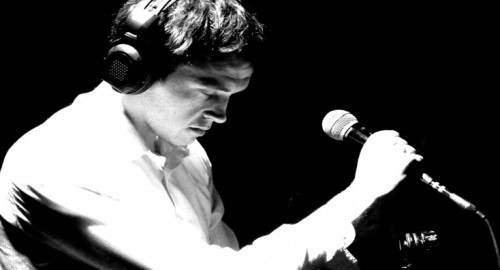 Writer: Brian Gorman
Director: Sarah Van Parys
Reviewer: Nigel Stone
Leeds' City Varieties is an unusual place to put on a play about Joy Division and Manchester. The theatre venue is an ornate, 19th century music hall, whereas New Dawn Fades is a story set against a bleak urban landscape of Mancunian drizzle. And, of course, Manchester is home to some of the darkest and finest Northern music during the late seventies.
Your host for the evening is "Mr Manchester" himself, the late Tony Wilson; played with an affable air of smugness by Lee Joseph. The presenter and co-founder of Factory records is drawn with broad strokes, as are a number of other characters: Bassist Peter Hook is surly; producer Martin Hannett is as mad as a hatter; and journalist Paul Morley is "a c**t" and a running joke throughout the play. These and other players in the story do their job; they put us in a time and a place. But the play is primarily about Ian Curtis and Manchester.
The city is a character in its own right; and rightly so; place is important because it played a vital role in the music of Joy Division. Wilson invites historical figures onto the stage, to tell us a litany of facts about Manchester. They include Roman General Julias Agricula, alchemist Dr John Dee, and political philosopher Friedrich Engels. Cultural icons come and go in a quick procession of cameos. Pete Shelly of the Buzzcocks and cut-up king Williams S. Burroughs dismiss Ian Curtis the second he meets them, then they're gone.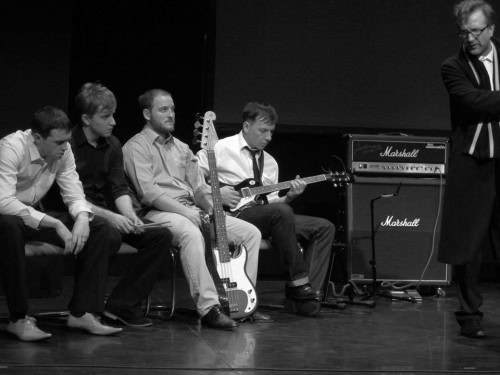 Curtis is admirably portrayed by Michael Whittaker, who manages to capture the singers' voice, and doesn't look daft when he twitches and jerks his way through Curtis' trade mark onstage dance. We know now that this dance was inspired by Curtis' epilepsy.
There are enough in-jokes to suggest Gorman is writing for fans, and most of these jokes hit the mark. Director Sarah Van Parys keeps a sparse stage busy. On a white-screen backdrop, footage from Wilsons' days on Granada TV is screened. A Marshall amp sits in a corner, a mic stand brought on stage for moments when the cast perform songs. Kudos to all concerned for taking the music on, and pulling it off with aplomb.
Then there is the washing line. It is first used during a scene between Curtis and his wife, Deborah. Natalie Perry is wonderful in the role of Deborah, and as she pegs up a row of plain white underpants, drudgery and despair are captured in a moment. Then the exact same line is used to far more dramatic effect near the end of Act Two (though no spoilers here).
Gorman knows his stuff, and Van Perys gets the best from a talented cast in this is thoughtful, amusing, and heart-breaking play.
Reviewed on: 15 May, City Varieties Music Hall, Leeds and ending its tour at Dancehouse Theatre, Manchester on 22 May