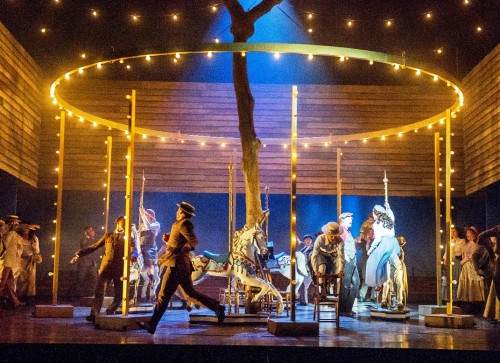 Adapted from the 1909 play Liliom by Ferenc Molnár and originally performed in 1945 on Broadway, this Rogers & Hammerstein musical is now given the Opera North treatment. This is somewhat of a departure for the company but they have lost none of their established grandeur in creating this traditional, feel-good musical.
Skipping forward a few years than the original Victorian setting, this production takes place in 1915. It is a somewhat stripped down version of the musical, largely making way for the ballet and ensemble scenes. Under James Holmes' baton, the Orchestra of Opera North provide body to the beautiful and poignant score. While Anthony Ward's timber frame to depict the New England port emphasises the hand-to-mouth economy of a place where the visiting carousel and summer clambakes are life's highlights. The revolving stage, a favourite set piece among avid theatre-goers, is utilised well, namely in the opening scenes when combined with projections of traditional carousel horses around the stage.
Through all the smiles and twirling skirts, a darker undertone is present, more so than in the 1956 movie which starred Gordon MacRae as ruffian Billy Bigelow, a role Keith Higham takes on for Opera North. Threatening and often dislikeable, he also portrays the softer side, allowing the audience to empathise with Julie Jordan as she longs for the good in him, seeing through his anger management issues. However, without a degree of interpretation and perhaps knowledge of the narrative, in this production it is somewhat difficult to ascertain what really pulls Julie and Billy together.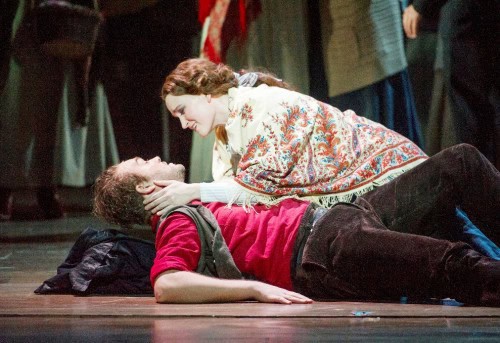 The musical's darker side comes to a peak when Billy's happy daydreams turn into disappointment and horror, as he assists in a bungled crime, sealing his fate. Following this tragedy Yvonne Howard's 'You'll Never Walk Alone' is the vocal embodiment of all that is comforting, uplifting and encouraging, which is beautifully reprised in the final scene.
Comic relief comes with the marriage and wedded life of Mr Snow (Joseph Shovelton) and Carrie Pipperidge (Lorna James) and the high energy of teenage years are reflected in the beautiful Louise Bigelow (Beverley Grant) as she dances with her male admirers, before performing a stunning pas de deux with Mr Snow's eldest son.
Carousel is traditional, sentimental and uplifting, but often with a sinister side, brought to the forefront more so in this production. Beneath the obvious narrative themes of redemption and loss, it also chronicles the growth and changes that marriage has on two friends, with both naïvete and a sense of a learning curve as they go along their own journeys, forever together.
Reviewer: Holly Spanner
Photos: Alastair Muir
As seen at Leeds Grand Theatre, now touring see http://www.operanorth.co.uk/productions/carousel–2