Benidorm Live at Leeds Grand Theatre
Benidorm Live comes to Leeds. Outrageously good fun says PHIL KIRBY.
A woman walks into Neptune's bar and asks for a double entendre. So the barman gave her one…

If that joke made you laugh then you'll be in for a treat at Benidorm Live At Leeds Grand Theatre all this week. Plus, it's more or less the plot.

Benidorm Live is based on the tv series, Benidorm; but if you are reading this you already knew that, so there's no need to go over the basic premise. The stage show features six characters from the telly who each get a roar of recognition when they first appear on stage ( I don't think I've been in a theatre with that much audience participation since Rocky Horror, it was genuinely that intense.)

Benidorm reprised some classic tv comedies tropes of the '70s and '80s, mixed in some Northern standup, and mashed it all together with the bawdy humour of the seaside postcard. Mother-in-law jokes. Fat gags and funny foreign accents. Sexually inappropriate references. And blunt, abrasive, down to earth language. It wasn't the sort of thing your therapist/herbalist/acupuncturist/yoga teacher would appreciate, and most of the gags would get you banned instantly from any student's union in the country.

Benidorm was everything in fact that's demonized, disowned and denied in working class culture today. It was an unashamed celebration of the culture a lot of us grew up in, but without any hint of sentimentality. Booze, burgers and buns, pure quantity over quality, everything in excess, or more – the working class do "all inclusive", the middle class don't – and Benidorm Live brings all that and more to the stage.

Personally I missed the mother-in-law jokes – though appreciate they would have been difficult without a motor scooter handy – but everything else about Benidorm Live was spot on. It's saucier than an explosion in a transport cafe, brassier than the knobs on a knick knack cabinet (and yes, it's the first time I've been able to do a knob joke in a review), and cruder than a seventies North Sea oil spill.

I went to the first night with a Benidorm virgin (oo'er missus!) who nevertheless chuckled all the way through. And occasionally guffawed – there was a lot of guffawing going on in general. In the interval she did mention feeling slightly uneasy with the gay stereotypes… and she's met my best mate, Harvi. For Harvinder, Benidorm Live is a kitchen sink drama, a slice of life, social realism at its grittiest.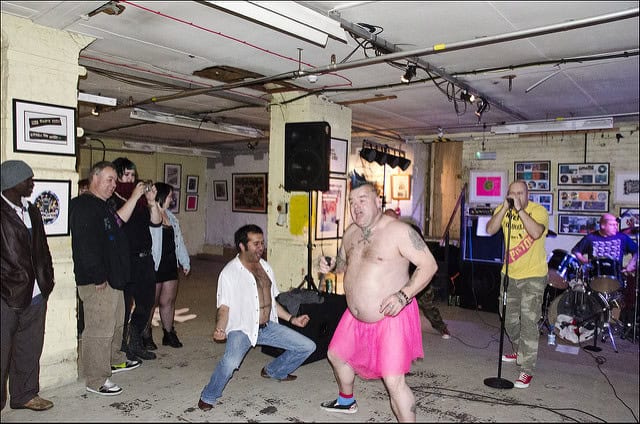 Tony Maudsley stole the show as outrageously extravagant hairdresser Kenneth, garbed in the most size disregarding gear, including a kilt that was nothing more than a tartan strap. And Adam Gillen as his barmy mate Liam got many of the best gags.
Jake Canuso had a huge amount of fun as the lecherous bar man Mateo peacocking around the pool, and Sherrie Hewson as hapless hotel manager Joyce Temple-Savage was a delight. Damian Williams is hilarious as "Gay Derek", at one point suffering a major trouser malfunction as he stalks Kenneth round the stage. And the moment Jacqueline – the biggest swinger in town – played by Janine Duvitski, jumped on fellow cast members and screamed, 'Bouncy! Bouncy!' had the packed audience in absolute stitches.
The show earned a standing ovation for a raucous version of cheesy '70s number one Y Viva Espana, which felt just about perfect and left everyone feeling in the mood for a sangria… or maybe even a sausage in cider.
Benidorm Live is on at Leeds Grand Theatre until Saturday 23rd March. Book at www.leedsgrandtheatre.com or 0844 8482700