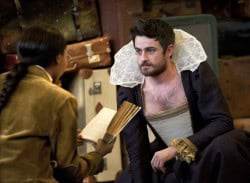 As masters of Shakespeare adaptations, The RSC tackle bringing the Bard's work to a younger crowd with their current touring production of The Taming Of The Shrew, aimed at 8-13 year-olds. Leo Owen went along too …
Uncostumed actors rush on from the audience before one stops to sort through wardrobe items, asking for audience participation in categorising clothes into men's and women's, only to mischievously swap the signs around. In already immersing their audience in the production, the Royal Shakespeare Company tenuously explain their decision to switch the play's gender roles.
Male and female actors bemusedly walk around the stage wearing each other's costumes against a backdrop of suitcases that cleverly make-up a back wall with an ingenious secret door. A cross-dressed song and dance opens the show in Padua, Italy.
Here, servant Tranio (Anjana Wilson) and master Lucentio (Mimi Ndiweni) spy on Bianca (Chris Jared) and Katerina (Forbed Masson) as their mother warns two of Bianca's rival suitors she will not be married until her shrewish older sister is matched. Attempts to change her mind are disregarded, failing to dissuade, a now besotted, Lucentio he too must win Bianca's hand.
With three Bianca suitors in the running, Hortencio (Caroline Faber) and servant Grumio (Claire Brown) plot to find Katerina a husband just as Petruchio (Katy Spears) handily appears on the scene resolved to tame "Kate". What follows is classic Shakespearean comedy, full of disguise and role reversal.
Forbed Masson makes for a comical burping Katerina, uncouthly eating out of crisp packets and spitting in love's very face. The bitter word play between Katerina and Petruchio is fun to watch, as is Katerina's melodrama as "she" attempts to squeeze herself into a trunk.
The play's short running time (One hour 15 minutes) and small additions like the sound of a snarling lion to signify Katerina's bite or the arrival of Petruchio in a superman costume at his own wedding are perfectly pitched at the production's young audience. Extreme exaggerations, over-acted characters, song, dance and tales of off-stage slapstick scenes also give the whole show a pantomime feel.
Elizabeth Gray provides much of the show's underscore, playing cello far stage. Designer, Colin Richmond's set cleverly encases part of the wedding dowry and Director, Michael Fentiman's decision to cross-dress characters adds humour while remaining in keeping with Elizabethan traditions.
After the production is over, cast members answer audience questions, providing one of the biggest laughs of the show when the following is read out: "The ones that kissed, do you go out?" In keeping with its target audience, this stripped down version of The Taming Of The Shrew remains light-hearted and full of energy right up to its final moment as the whole audience participate in creating a soundscape for the pivotal scene between Katerina and Petruchio. Fun and accessible as Shakespeare for kids should be.
The Taming Of The Shrew runs at Bradford's St George's Hall until February 22 before continuing its UK tour.