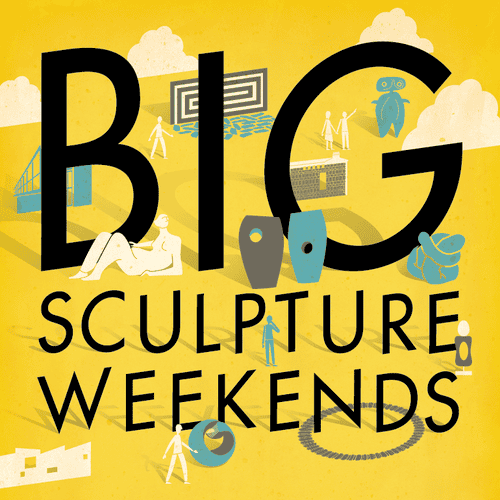 If you didn't already think Yorkshire was the toppest banana in the fruit bowl what with the Olympics victory that we all helped with from our sofas, then maybe we should get all jubilacious about the great art that emanates from our fair county. Yes it's blinking wet here, but there is something in the water here that not only inspires people to box for Britain but create great green spaces, award winning galleries and not least our artists create fantastic huge bits of sculpture.
So some canny marketing bods got together from Yorkshire Sculpture Park, Leeds Art Gallery, The Hepworth Gallery and Henry Moore Institute to develop  a new concept…one where we gasp at lots of sculpture in the space of a weekend. Aptly they called it Big Sculpture Weekends. See Yorkshire tops the polls in having the very best marketing minds too (we'll not mention they've adopted a North East agency to do the witty design element. In fact we'll let them off as it's Sumo, who've made a name for themselves in the cultural world with events such as Museum Next and Culture Geek and may be about to breathe some much needed life into The Royal Armouries – however it does beg a question as to who is doing interesting cultural brand stuff in Yorkshire these days…I digress).
When are these smorgasbords of Sculpture appenin then? It seems whenever you are out and about over the summer. It's a free range thing, but if you collect 4 stamps on your big sculpture loyalty card you can win a goody bag of stuff. We've tried to nick the picture off the internet but it wont work, so here's the Henry Moore Institute's instagram of what's in the goody bag
So with blockbusting shows across Yorkshire of Sarah Lucas, Anish Kapoor, Joan Miro, Richard Long, Helen Chadwick and about 196 more great artists what excuse do you need to go on a sculpture safari? None! Pack a knapsack and be intrepid for your art.
I might add I don't always talk in this style, but something about the big yellow branding got me all excited! Now I'll be dragging the family off with my loyalty card to get my postcards and notebook.
Let @BigSculpture know you found them by tweeting them and mentioning us @culturevultures. The more people realise how brilliant we are the better!