A grand entrance at Pieminister, Leeds (Photo by the author)
The corner plot of Duncan Street in Leeds seemed to become a new shop every few months until a pun-loving, one-note chain eatery took up residence there in 2015. ANNIKA JONES finds herself in The Thick of It… 
I've only heard good things about Pieminister and yet never felt compelled to visit. Assuming, like those before it, it wouldn't last, three years on, it's become a supper-time staple in the city. I'm not only wrong, but in the minority it seems.
"You've never been to Pieminister?" My boss asks, before telling me that not only has he eaten every pie on the menu, but they also catered his wedding. A wave of sadness hits me as I realise that I've never liked anything as much as this man likes pies, and off I go to become a fellow convert.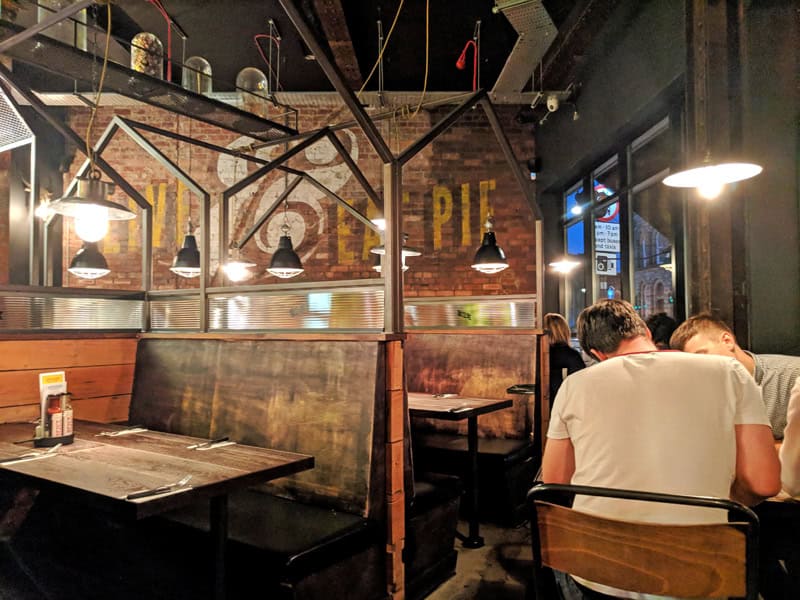 The venue has a decent amount of booth seating, and somehow manages to fit in a bar area too. From the outside it has always looked a little cramped, and with the dark decor it feels a little like the walls are closing in on you. This feeling is soon brushed aside by the sunny service, which was pretty much faultless throughout the evening.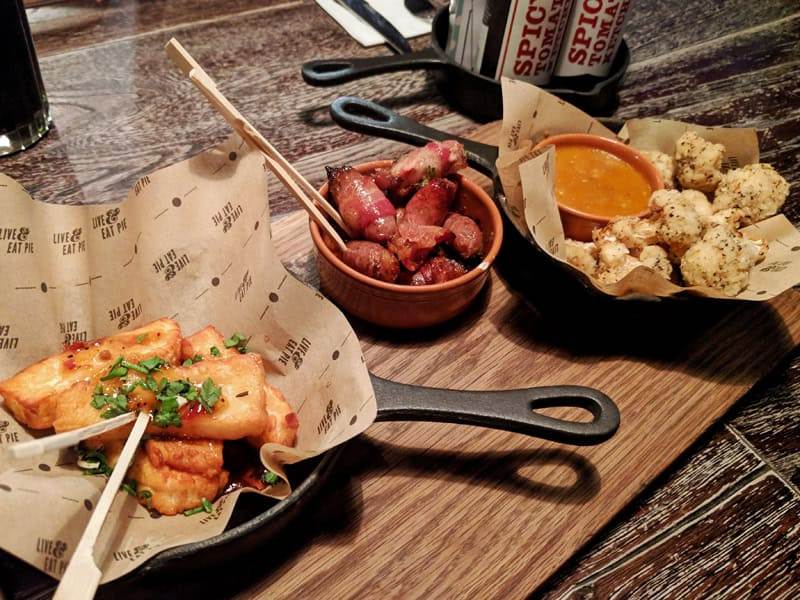 The 'small plates' which serve as starters, offer some interesting options. We go for variety – Halloumi chips, pigs in blankets and spicy cauliflower. Three different cuisines on one board.  They make a perfectly edible, if slightly offbeat start to the meal.
The autumn menu offers up classic favourites like 'Moo' (steak and ale), alongside newer creations such as Saag Pie-neer. The real reboot here is the new menu option, 'Fully Loaded' which puts your pie centre-plate and surrounds it with loaded fries.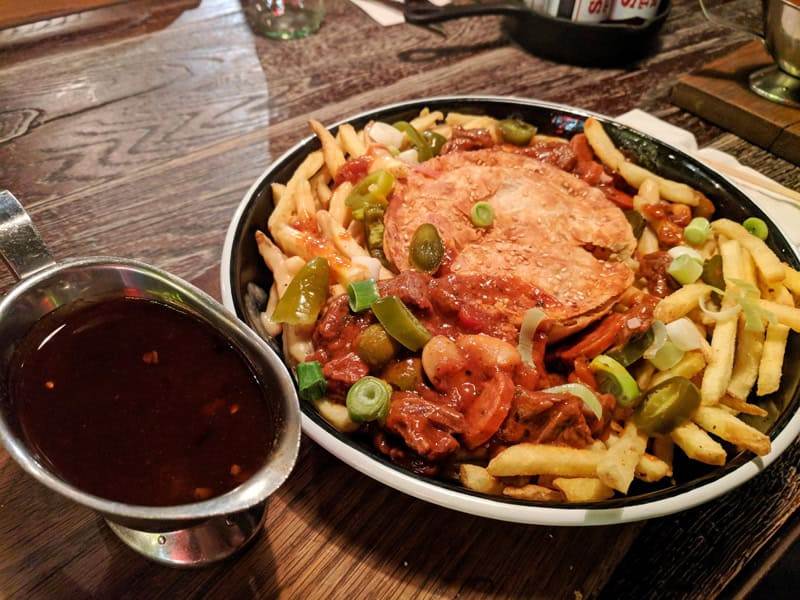 I opt for the Heidi – goats cheese, sweet potato, spinach and red onion, with El Toro loaded fries – braised beef, chorizo, jalapenos, olives and cheese sauce. If that seems like a lot of ingredients on one plate, you should know that there's also gravy to be added.
While I'm sure that there were a lot of tasty, well cooked elements here, I was struggling to taste any of them all piled up on each other. I thought maybe I had simply chosen badly, but seeing my pie-loving friend struggling with her meal – a mushroom and asparagus pie, with the vegetarian loaded fries option – some seriously salty spiced cauliflower, curry sauce, pickles and sriracha, I knew it was a conceptual problem.
Pieminister has built a solid reputation on the quality of a single product. While I'm usually the first to applaud inventiveness, this particular attempt takes away from what should be the shining star of every meal there; the pie. I imagine if, like my boss, you've tried every option already and want to mix things up, this might appeal to you.
For me, on my first visit, a mouthful of goats cheese, beef and olive wasn't really what I signed up for. Thankfully the option to keep it simple is still on the menu, and for Pieminister's sake I hope won't be retired anytime soon.
Annika Jones is theCV's restaurant critic. She visited Pieminister in Leeds. For details or bookings, click here.