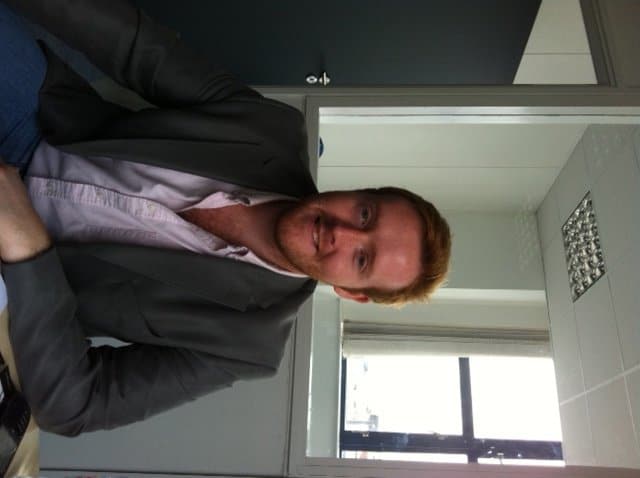 It's another hot and humid August day here at Culture Vulture Towers on the edge of Leeds city centre. Over the road, airport-bound coaches are setting off from the bus station as the country starts its summer holidays. But we're not taking a break this month – in fact, I'm only just getting started!
First, let me introduce myself. My name's Mark, I live in Halton out to the east of the city, where I've called home all my life. Last month I left Oxford University where I graduated with a degree in English Literature.
There's a familiar joke about English students: "What do you say to a bloke with a BA in English?"
Anyone…? "Big Mac and fries please."
Well it's right on the mark. For this month ahead, to put it bluntly, I'm jobless and penniless, getting by on nothing more than my homespun wit and a little northern charm.
But as I'm back home in the West Riding, and because I'm a restless man and can't sit quietly in my room for very long, I've come up with a little bit of a project – a good old Yorkshire challenge.
This month, with the help of Emma and Phil here at the Culture Vulture, I'm going all around Leeds, Yorkshire, and even further afield, trying to discover some of the local curiosities, the little-known points of interest, the quirky characters and tales that make this region what it is. Starting tomorrow until the end of August (28 days!) I'm on a mission to bring out all the life and glory there is to be found in these parts.
And this is where you loyal, generous, kind-hearted readers come in. I am going to head to a different part of the region every day throughout August, and take on the challenges that you set me. Whether it's finding the grave of an influential but forgotten name in the cemetery at Beeston, an abandoned church in Sheffield, or even a rude street sign over in Hull, I will take it on. Anything and everything that has an interesting, poignant, funny, charming story about it from wherever you live. Emma will be telling you where I am every day on Twitter, and I need you to send me to the places which bring out all the local colour across our fair county.
And because I'm a poor and innocent graduate, I need your help when I'm there too. If you can do me a good breakfast ahead of my adventure, or take me in the right direction, or even give me a tour if you know the place well, then I will be in your debt forever.
I'll be posting the stories about my adventures here on the site regularly, with lovely pictures and voice recordings and everything else that I can make my trusty little phone do. The people I meet, the stories I hear, the sights I see – I'll share it all with you sweet and gentle readers.
So bring it on, Yorkies! Tweet me @mw_obrien
Updated posts

Day 1 The Theme
& Leeds Always Leading the Way?
& Making the Stone "Stony"
Day 2 Communty – a Verb?
Day 3 City of Dreams

Days 4/5 When Things Go Wrong
Day 6 Getting Crafty
Day 7 More Than Just An Airport In Yeadon
Day 8 Hidden Treasures
Day 9 I Predict A Diet
Days 10/11 Radio Ga Ga
Days 12/13 What Poems Can Grow From
Day 14 Telling Tales
Day 15 Feva Pitch
Day 16 Masters of All They Survey
Day 18 Folklore Old and New
Day 20 Socially Enterprising
Day 21 Create-ivity
Day 22 Walking Back To Happiness
Day 23 If You Can't Stand The Heat
Day 24 Not Stuck In The Mud
Day 26 Something For The Weekend
Day 27 True Adaptations Never Have Endings
Day 28 Dark and True and Tender (Part 1)
& Dark and True and Tender (Part 2)