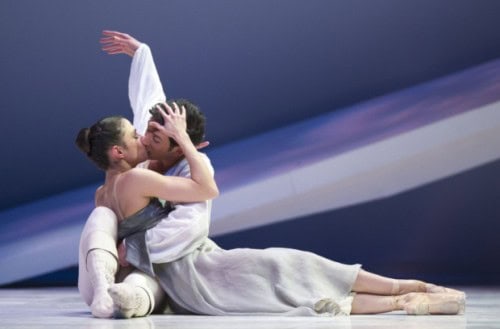 The UK premiere of Jean-Christophe Maillot's Les Ballets de Monte Carlo's Romeo and Juliet sets Shakespeare's classic love story against Profokiev's alternately fiery and romantic score to produce a sexy, dynamic feast for all the senses. It comes as part of Northern Ballet's 45th anniversary celebrations that continue with a Sapphire Gala, also at Leeds Grand.
When the curtain first goes up there is a sense of awe at Ernest Pignon-Ernest's radically minimal set, abstract and austere, with more than a sideways nod to Russian Constructivism. And then there are Jérôme Kaplan's largely monochrome costumes which are simply to die for, neatly delineating the dancers into whites and creams for the Montagues and greys and blacks for the Capulets.
Friar Laurence (Isaac Lee-Baker) appears in most scenes as the orchestrator of the action, as if the narrative was seen through his eyes of memory. But despite the tragedy involved we are also treated to many comedic and playful moments, including flirtations which run to arse-spanking, breast-fondling and other fun and frolics.
Giuliano Contadini and Martha Leebolt as the lead lovers have an electric on-stage chemistry and are allowed some beautiful duets to display their emotional depths, both romantic and then finally tragic, when their lovers' bed has become a stony tomb's slab. The Northern Ballet Sinfonia, directed by John Pryce –Jones, live up to their extremely high standards and the ensemble display compelling performances in a show which both shocks and delights in its form and content, a true tour de force.
4 to 12 March, Leeds, Grand Theatre
Northern Ballet Sapphire Anniversary Gala Performance, 14 March, Leeds, Grand Theatre