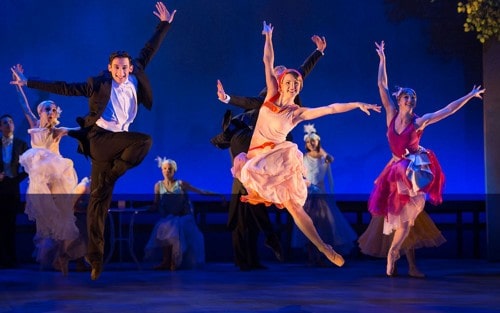 Northern Ballet's Sapphire Gala to celebrate their 45th anniversary was an evening of national and international importance for the dance world. The Northern Sinfonia were on fine form as ever with their exquisite Orchestral Overture of Russlan and Ludmilla by Mikhail Glinka. Then there is a brief introduction by Northern Ballet's Artistic Director David Nixon who is clearly thrilled to have dance stars from around the globe come to Leeds to give their support to his seminal ballet troupe.
And it is Nixon's sassy and sexy Sapphire that starts the evening's proceedings, a delight for the eyes with a group of male dancers in sequined blue trunks going through heroic poses, gracefully mirroring each other's every move. For the finale they stride off into a blue distance and strike a perfect pose for a final frieze.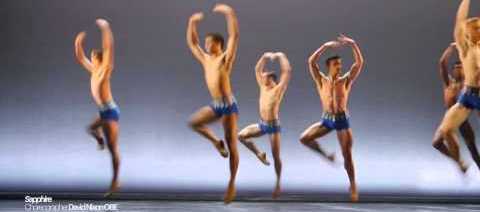 In Fatal Kiss there is a beautiful pas de deux with a couple in black and red costumes (historically associated with flamenco) accompanied by live piano, violin and cello and set against Hispanic hues. The piece resolves itself with a final embrace after a series of amorous games.
Phoenix Dance's Shift sees the dancers wearing costumes appropriate for a country hoedown, split into duos, mirroring each other. The women adorn head scarves and both genders move at a hectic pace, following the insistent and relentless soundtrack by Kenji Bunch, entitled Swing Shift. Choreographer Christopher Bruce aims to conjure up life in the big city in the 1940s and certainly there is a sense of frantic activity and busyness. Alongside this is a feel of isolation, there being no time left for real relationships.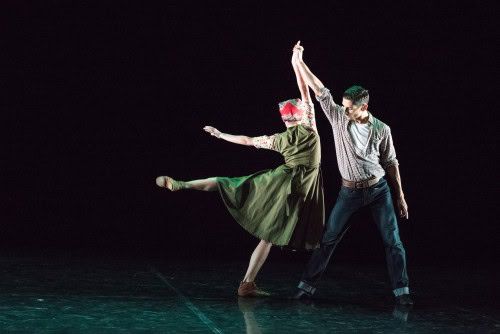 One of my highlights of the evening is Jonathan Watkins' A Northern Trilogy set to Stanley Holloway's endearing renditions of Yorkshire Pudden, One-Each-A-Piece All Round and The Lion and Albert. These comic monologues are matched by subtle physical responses and interpretations and the combination of form and content is cleverly intertwined and inventive.
Another particularly beautiful moment is Javier Torres' performance of A Dying Swan with quivering attempts at flight and gravity-defying feats of balance. The first half of the show ends with a sublime pas de deux performed by the Australian Ballet to depict the Prince's romantic unison with Cinderella.
The resounding success of Northern Ballet's The Great Gatsby is revived in another pas de deux where Jay Gatsby is reunited with his lost love Daisy Buchanan, performed with exquisite grace and subtlety. And a surprising choice of Elvis Presley as a soundtrack to Demis' Volpi's Little Monsters sees both the joy of passion and the pain of separation.
Then there is a collaboration with The Hamburg Ballet for a beatific and playful pas de deux from The Nutcracker. And another real treat comes in Kenneth Tindall's modernist masterpiece We Never Said with a dramatic shift in lighting and black leather costumes. There are hints at torture or sexual aggression as the female dancer is dragged and cast down and fails in attempts to escape.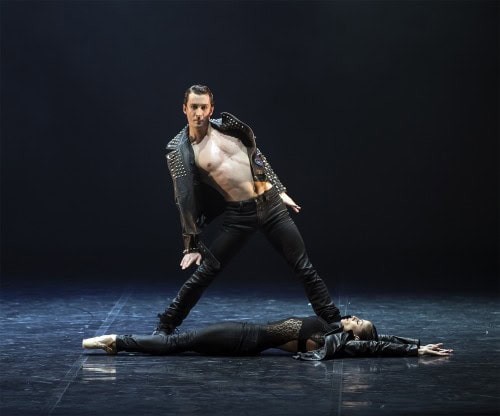 After this intense and enervating work there is light relief in The Mariinsky Ballet's Ballet 101 which sees the solo male performer put through an absolutely exhaustive and exhausting exercise of classical ballet movements. These 100 positions are read by a demanding voice-over who then calls the numbered poses at random which sees the dancer writhing in agony to keep up the pace.
Then what better way to finish the evening with an enhanced Charleston from The Great Gatsby that is the perfect showcase for David Nixon's superb costumes and, of course, the ensemble's spectacular skill, sumptuous, sensual and simply sensational. This night will be remembered by all those lucky enough to attend for a lifetime and perfectly encapsulates just why Northern Ballet are world-renowned as constantly achieving such excellence in performance, direction and design.