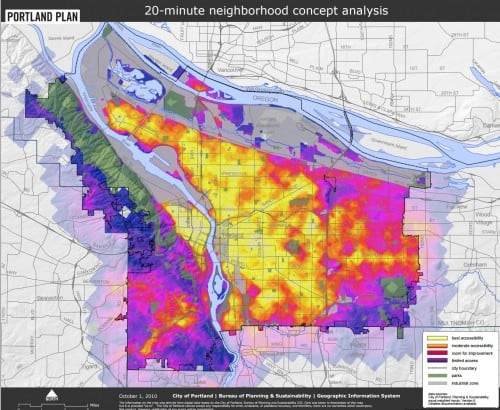 The idea of the 20 minute neighbourhood was developed as part of the Portland plan  and is based on the idea that you can get all of the daily goods and services within a 20 minute walk of your house. There are variants of this as the concept is used by a variety of people, promoting cycling, walking and high density development. There are also a variety of ways of measuring liveability and walkability, the latter can give you the 5, 10 or a more precise number of minutes that your neighbourhood can deliver shops, exercise, school, library etc.
It's probably true that before cars the majority of people had a less-than-20 minute neighbourhood, and for many that included their journey to and from work. In fact where I live in Armley in Leeds, most of the housing stock was created for workers at Armley Mills. The housing is on a close grid system and is highly permeable with back alleys, and there is still a fair amount of green space, which includes common land held in trust for the people of Armley as well as the council parkland. The density is probably partly a product of keeping the distances low, and the costs of construction down; when the terraces were built the occupancy was far higher than it is now, with some families living in one or two rooms. Armley also has its township centre with a library (built 1901), a leisure centre (the original Armley baths dated from the 1920s) and shops. Currently there are quite a variety of food shops, a butchers, household things shops, charity shops, a post office, banks, cafés and a large number of take-away, betting shops and quick-cash shops.
One key part of the 20 minute neighbourhood is that it should be a place that invites people, so that they choose a walk to their amenities, and this is perhaps where Armley fails in some regards. For many people their walking experience is next to or crossing heavily trafficked roads and it is much easier to drive to Armley than to cycle. In balance the bus service is good, but subject to congestion delays. Leeds has a number of townships like Armley but arguably, in my view, the most close to a 20 minute neighbourhood is Chapel Allerton. For me, London is the ideal place to experience the 20 minute neighbourhood. The high density and low car ownership within central London means that you are seldom far from a shop or school as well as cafes hairdressers and a whole lot more. Research also shows that people that walk and cycle visit the neighbourhood shops more often and spend more than people that drive.
One question that I have begun to ask is 'how is it that we ended up moving away from liveable and walkable communities?' Although car ownership is a contributory factor there are larger forces at work, many of which we imported from America in the 1950s and 60s. Perhaps the worst is the combination of suburban housing estates and zonal planning. Zonal planning is still very much alive in Leeds, where areas are classed as 'light industrial', residential, offices etc. When I googled zonal planning Leeds the first hit was for the Thorpe Park development on the junction of the A63 and M1. Business parks and out of town shopping centres are one of the most horrible outputs of zonal planning, these by definition are not where people live and built mainly for people to access in cars. Its very simple really, if you plan a residential zone, office park, a retail park, and make it so that they are most accessible to cars with large car parks then it's not surprising that people drive to them. Zonal planning also tends to only build walking routes along the roads and places the zones in pods with no direct walking or cycling access. The planning is also very formulaic so that roads, planted areas, trees and the buildings are often repetitive and featureless. Walking is pleasureless and too often you have to wait to cross traffic, or try to navigate massive and unfriendly car parks.
Although the nails are now firmly in the coffin for new out of town shopping centres, a number of policies have meant that few can get about their daily lives without a considerable amount of travel. Injecting choice into the school system has meant that often children don't go to their closest school, and families often move to an area in the catchment of their chosen school, particularly for high schools. Armley for instance sees a steady outflux of aspirational families with children in the final years of primary school.
One thing that is alerting interest is that successful 20 minute neighbourhoods can attract high value industry. For instance, in London, Bermondsey and Shoreditch have become very attractive for creative and dot com industries. There is a growing body of evidence from America that denser cities with less car parking are more economically succesful, so far this has made little impact in the UK.
20 minute neighbourhoods should be far more inviting to walk or linger for a chat, or for us to indulge in people watching and to make this we have to improve the streetscape, or what planners call the urban realm. One of the characteristics of suburban development and zonal planning is the lack of urban realm. Although suburbia cultivates the ultimate in private realm with nice gardens and plenty of space inside the house, the streetscape is boring and often so dominated by cars and the roadway that it is unsafe to walk or cycle. You don't have to go far around Leeds to find many estates with very few shops or amenities and a boring urban realm.
My worry is that unimaginative housing developments of the type are what a being planned for Leeds, estates that few will want to spend time in, and instead spend their time clogging the distributor and arterial roads with trips to fulfil needs that could have been met locally. What kind of Leeds do we want to create in the next 15 years? More sprawling estates with few amenities or more higher density townships with mixed use developments. Urban living in the centre of Leeds has grown massively and there is even a new secondary school planned for the centre of Leeds. Young people increasingly chose to rent and live in 20 minute neighbourhoods, and also are delaying the age that they own cars and learn to drive. Places where these people can meet and chat are a hive of creativity and will develop new industries and ideas. Suburban estates where people remain in their own houses and gardens do little to generate new ideas and high value businesses.