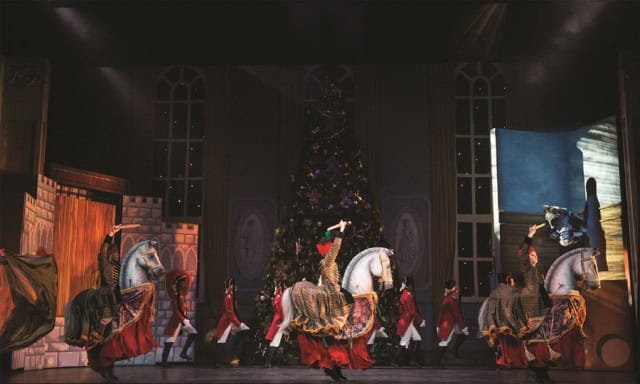 Reviewed by Amanda Wignall:
Nothing sums up Christmas quite like The Nutcracker. So it was with gleeful anticipation I arrived to watch Northern Ballet and their narrative of the Tchaikovsky timeless classic hoping it would lift my Scrooge-like December blues. It certainly did not disappoint!
With David Nixon OBE at the helm of this outstanding company you already have a guarantee of excellence. As always he presents us with the choreography, direction and costume design all displayed in gold-shimmering brilliance. This is a truly magical tale of a wide-eyed and curious girl called Clara and the adventure that she embarks on when her uncle gives her a nutcracker doll which later comes to life.
As the innocent and beguiling Clara we have Rachael Gillespie who is so feather-light on her feet you would be forgiven for believing she is made of soft marshmallows as she delicately floats across stage. Playing Uncle Drosselmeyer is the striking Matthew Topliss. With his flowing locks, floor-length cloak and sweeping dance moves we have a character not unlike a Las Vegas showman but with a touch more finesse and sophistication.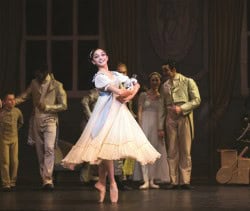 Uncle Drosselmeyer arrives from his travels from far-flung destinations with an array of Christmas gifts for Clara and her siblings. Among these are some exquisite dolls. The sharp mechanical on pointe mastery of the French Dolls is paired with the breathtaking body shapes that the Chinese Dolls create. All are beautifully magnificent!
The Mouse King (Isaac Lee-Baker) is comically menacing and will have you giggling at his cheeky persona along with his little mice gang. The Nutcracker Prince (Ashley Dixon) is resplendent, brave and solid and, of course, the ultimate role for any aspiring Ballet dancer is: The Sugar Plum Fairy. The dazzling Lucia Solari takes on this iconic role with an effortless ease. Striking and elegant she is visually enticing to watch almost daring you to take your eyes off her.
Charles Cusick Smith is responsible for the set design and it is apparent that this really is a labour of love. From a lavish luxury mansion to the seemingly sugar-spun forest with its haunting full round moon and at one point sparkly glittery snow, you really cannot help but feel pulled into this fairy-tale land.
Musically The Nutcracker is a story of two definite halves with the first act being one swirling dreamy fluid musical score and the second a smorgasbord of equally scrumptious nibbles. The resident music director John Pryce Jones brings it all to full auditory colour. And with Tchaikovsky giving names to some of these tasty morsels such as Candy Cane and Marzipan it is no stretch of the imagination when I say you can almost feel the deliciousness on your tastebuds along with a definite thrilling shiver down your spine with the first pas de deux in Act two.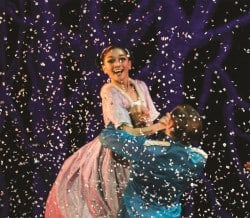 To the uninitiated of the wonders of the pure art that is ballet, this ultimate Christmas show is the perfect introduction. But it also holds the power to make the seasoned connoisseur among us fall head over heels in love with its ability to leave you feeling as if your heart has been dipped in a vat full of honey all warm and gooey.
It is the chocolate fondue of entertainment and everybody loves such sweetness! So utterly gorgeous is this production that it is virtually impossible to pull out a stand-out star, both in terms of design and performance, with every aspect seamlessly joining to present a magnificent evening of jaw-dropping showmanship.
As the performance comes to an end you may have to fight the urge to rush to your feet clapping furiously and yelling "TAKE ME WITH YOU TO YOUR ENCHANTED KINGDOM" like I almost did…but rest assured you will make the journey home filled with happy seasonal joy and a song in your soul.
Reviewed By Amanda Wignall on 16 December 2015 at Leeds Grand Theatre. Runs until 2 January 2016. See Northern Ballet website for details of 2016 productions.
Photos: Emma Kauldhar.