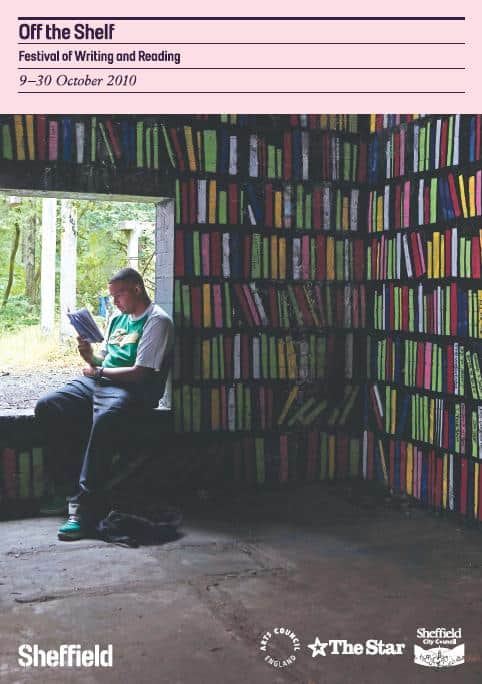 Sheffield's got a literary feast coming up in October with the Off the Shelf festival. For one, big, fat month the city is serving up a banquet of spoken word nights, theatre productions, workshops, competitions and debates for lovers of reading, writing and words.
I'll be going behind the scenes to meet festival highlight, Tony Benn, the veteran politician, born rebel and prolific diarist. I thought you might like the chance to ask him a few of your own questions, so whether you'd like some inside info on life in political Yorkshire (he was MP for Chesterfield for nearly twenty years), some handy writing tips or something totally random, leave your suggestions in the comments box below and I'll publish Tony's juiciest answers during the festival month.
This Saturday, you can join in the launch with a literary flash mob. Just bring a book, be at the Spoken Word Tent by the Town Hall for a few minutes before 1pm and listen out for Sheffield performance poet Matt Black on the megaphone. Only five minutes of your time is needed to help create some page-turning impact.
I've discovered you can hook up with an event buddy at selected events for a free pre-event drink and a post-event discussion. I've marked a few of those events below as EB. Also, independent bookseller, Rhyme & Reason will have a stall at most events where you can get special offers on certain festival books. Here are a handful of my highlights:
Home-grown words
Yorkshire bards will be out in force, hailing from Sheffield, Barnsley, Huddersfield and beyond, some familiar, some bursting onto the scene for the first time:
• 12 Oct: The Poet Factor (EB)
It's 12 contestants, five minutes a piece and a judging panel without Simon Cowell. If you fancy a chance at airing some of your original works with a bit of healthy competition, now's your chance.
• 13 Oct: Simon Armitage, Ann Sansom and Peter Sansom
I've seen Simon Armitage before and he weaves magic with poetry and words. This event marks the start of a year-long collaboration with Ann and Peter Sansom of The Poetry Business.
• 19 Oct: The Circus of Poets
Ian Macmillan, Bard of Barnsley FC is always a hoot. He'll be accompanied by writers and performers David Harmer, John Turner and Ray Globe for comedy and poetry.
• 26 Oct: Sheffield Liming
This is a night of word play, beats and commentary in the form of music, poetry and spoken word with a Trinidadian flavour. Young Sheffield writers will also perform their work.
Free words
The recession doesn't have to stifle the creative juices as there'll be loads of free events too, plus an entire community programme alongside the main events:
• 13 Oct: Writing Poetry with Mandy Coe
Find out how to invent characters through poetry at Mandy Coe's workshop for young people and adults. You'll need to book in advance.
• 16 Oct: Jon McGregor
This community event features the author of If Nobody Speaks of Remarkable Things. The venue, The Rude Shipyard is a wondrous experience in itself.
• 30 Oct: Cornucopia Live
Radio play performances, comedy sketches and interviews with local writers will happen in front of a live crowd and be broadcast on Sheffield Live 93.2fm. Writers and actors can apply to perform their own work as part of the show.
• 1 Nov: Written Large with Marina Lewycka
Marina Lewycka is the best-selling, Sheffield author of A Short History of Tractors in Ukranian. She'll be talking about her work at this event aimed at people with visual impairments.
Masters of words and performance
There are big names aplenty too including Jenny Eclair, William Nicholson who wrote the blockbuster, Gladiator (EB), Fatima Butto (EB) and Alistair Campbell (EB).
So whether rap poetry, bookbinding or radio play performance is your thing, it looks like you'll be spoilt for choice. I'll see you there!