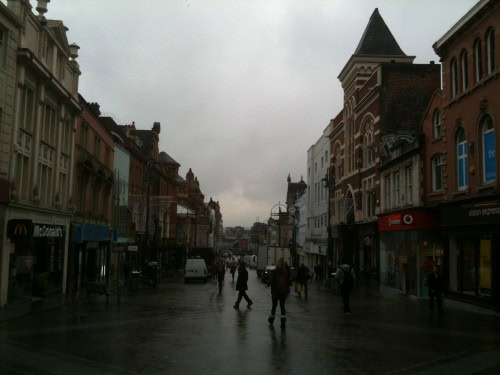 I've been shopping in Leeds for many years and although I am certainly no fashionista I don't mind a bit of retail therapy every now and then. Leeds has a reputation of being the shopping capital of the north (although I'm sure other cities may beg to differ) and at the heart of this retail oasis is Briggate.
It is one of the oldest streets in Leeds and has been a primary thoroughfare through the centre since the 1200's. The street has gone through countless changes over the years, some big, some small but what I believe to be one of the biggest changes is only very recent when in the 1990's it became fully pedestrianised.
However, shopping & local history aside my main love for this street is its rich and diverse architecture. Many people walking up and down the street may not even look above the glass facades and shop signage to see some of Leeds' most interesting buildings from generations past to more recent modern additions.
Earlier this week I walked up Briggate to take a few pictures to accompany this blog and even surprised myself a little when I took over 30 pictures of very different styles of architecture on the one street (and only the pedestrianised bit too). I won't go into a long lecture on architectural history but it is fair to say there is a great selection of buildings new & old.
I particularly love the smaller ones squeezed between larger more ornate buildings where there has not been an attempt to compete in a grand way but have a more practical aesthetic. These however would not standout to me if there was not the mix of ornate, traditional, grand and modern.
I also approve of the more recent addition of planar glazing to the street (currently Pandora). This is architecture of its time and for me continues the story of how buildings & streets evolve through the generations while essentially providing the same purpose. It is too early to tell how the new shopping centre of Trinity Leeds will knit into the streetscape but I hope it will thrive not just for its shops but I hope in the future people will see it as a good example of early 21st century architecture and understand why we built such buildings. Although I do know that a lot of people are questioning the need for more shops!
How well do you know Briggate take a look at the picture here and see if you can name all the shops, a few have the shop sign showing to give you a helping hand. Sorry about the quality of some it was not the best of weather!
If you love a building, street or generally any space within the built environment and you want to contribute a post to the series Spaces & Places – our love affair with the world we live in please contact me.