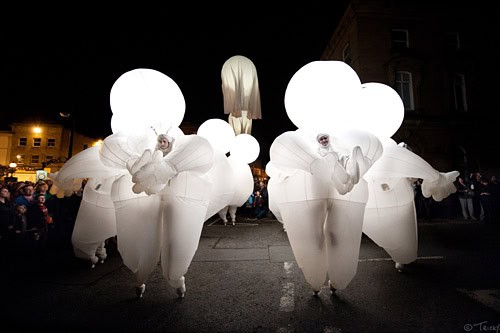 By eck, tha sees sum strange 'appnins in Deepest Yorkshire…
Particularly in Dewsbury on cold winter nights….
As each year, at the end of February, Kirklees council ship in some of Europe's finest street performers to put on a spectacle to delight the townsfolk of Dewsbury. Last year saw Giant Firebreathing Dragons roaming the streets, this year was the turn of "Herberts Dream" by the French Compagnie de Quidams.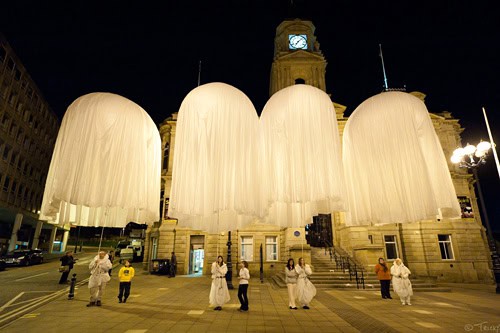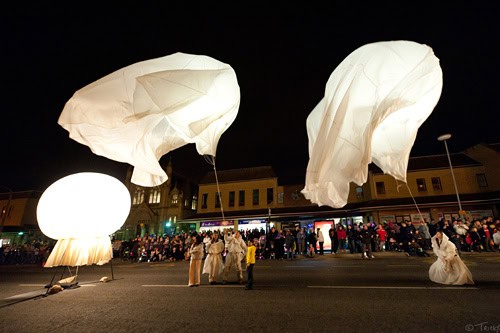 The performance started off with huge draped balloons being paraded through the streets of the town, along with 8 mysterious robed characters on stilts, silently making their way through the crowds.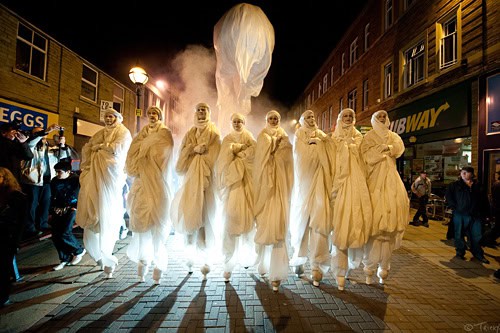 After freaking out the odd small child for a while, they suddenly started to inflate….. changing into giant illuminated 4-metre tall bulbous creatures with large spherical heads!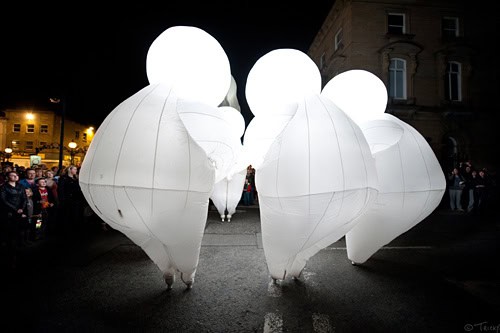 The creatures then proceeded to dance and interact with the crowd, rubbing their giant hands on peoples heads, before returning to the starting point of the event where 2 giant orbs were waiting, that the creatures then danced around, before releasing the orbs into the sky, eventually creating moons above the crowds of onlookers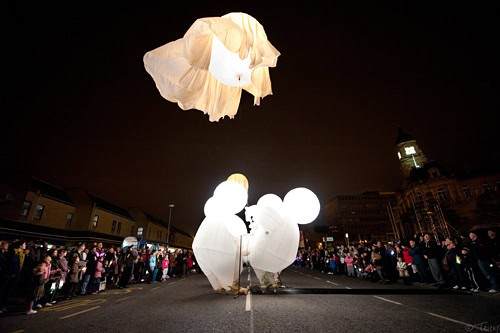 Finally, after a small fireworks display, the performance was over, and the townsfolk returned to their houses, anticipating what will await them next year.
Hats off to Kirklees Council, they seem to have the where-with-all to arrange amazing events, with the yearly Spirit event in Dewsbury, and the Festival of Light in Huddersfield, the like of which puts most events throughout the rest of the region to shame – We've been going to the spirit events for the last 3 years now, after a friend who'd moved to Dewsbury suggested we come along – now it's a regular date in our diary as it never fails to disappoint.
You'll notice a distinct lack of barriers in the photos too – the events that are put on very much encourage the crowd to mingle around the performances – a refreshing change!
Photographically speaking, I love taking photos at quirky events like this – they provide the opportunity for great images, and at the same time are really challenging – low light, high contrast, movement everywhere and a throng of other photographers to try to keep out of your pictures!
Hope you enjoyed this taster of what you missed, and don't forget to check out the event next year… If you'd like to see a few more photos from last night, check out my set on Flickr.
---
Rick Harrison is part web-developer, part Freelance Photographer – producing commercial, marketing and architectural photography for a number of clients around Leeds. You can find his (far too out-of-date) photography portfolio here, his (much more up to date) flickr stream here, and can be found on Twitter under the moniker @sovietuk