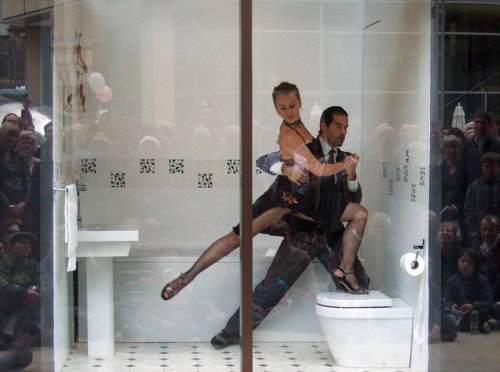 So I don't need to tell you that Sheffield's streets are full of off-kilter and unexpected cultural things: I spent some quality pixels doing that last month. But Toilet Tango, a site-specific dance installation/performance by Argentinian dancer Rodrigo Pardo, brought to Sheffield by Danceworks, I have to admit, took me by surprise. Billed by the Guardian as 'a gem of street theatre', Toilet Tango was previously performed as part of Dance Umbrella in London in 2008. In its Sheffield guise, for one day only, a bathroom is installed in the window of an unassuming office building that's part of the new St Paul's Square development in the centre of Sheffield and becomes the stage for something altogether more spicy.
I love tango. It is the most passionate of dances, all spiky and bad-tempered, simmering with tensions that don't need to speak their name. I do wonder how on earth its drama is going to translate into a bathroom showroom environment, in an office building, onlooked by a sizeable crowd. But by the time Rodrigo himself appears in the bathroom set, in starched white smalls, and proceeds to shave and dress himself in a series of comic and rhythmical poises, there's nothing to question at all.
He does his hair and dons a suit, singing songs about Buenos Aires and in an inspired nod to Sheffield, sings a few bars of  'Don't you want me baby' by the Human League. He warms up, gives a flourish here and there, as he pulls on his jacket and starts to dance. Soon he's joined by dance partner Claudia Jackobsen, sultry and slick in black chiffon, and they are all over each other and that bathroom in a flash. The toilet roll gets flicked by a stilettoed foot and unrolled, then they develop Spidey skills and manage to dance on the white-tiled wall. They're in the bath, the sink, on the toilet… dancing a magnificent tango, in the tightest and most unlikely of spaces.
And in the crowd, we're all agog. The show is accomplished and inventive, deadly serious about the dancing and yet comic at once. Ten minutes is all it lasts, and I could really go some more. I'm sure some punters stayed around to see it performed again. But that's the beauty of what we've just seen: it's perfectly designed to work in that tiny domestic space, the choreography, the pace, the music, the duration of the dance. It's one of the few 'site specific' performances that make me understand what that term really means. Forget moving statues or freaky magicians: Toilet Tango, you are what street theatre should be.
Want to see Toilet Tango for yourself? Look no further.