The other day The Culture Vulture got an email from the American Express who are working on a campaign to find the most inspiring hidden places around the country: These experiences/locations should be free, the email said, hidden havens and hideaways, not the obvious tourist hotspots. That's interesting, I thought – I like free, I can do free quite happily. But what I thought was brilliant was the list of examples of what inspirational places are
The bench hidden away in a park where you feel inspired to read and write. The subway with amazing acoustics. The cobbled backstreet ideal for people watching for fashion inspiration …
Well, maybe not so much the fashion inspiration – what I know about fashion could be written on the label of my Oxfam shop tank top – but the bit about park benches and subways. That was right up my cobbled street.
The task was to find a dozen or so inspiring places in Leeds. These would then be put forward for a list of the most inspirational places in the country – so there was a bit of a competitive edge to this project too. I'm all for tooting the trumpet for our home city, especially as we'd be up against London and that other place over the Pennines half-way to Liverpool … I can never remember what that place is called, Malchester or something.
So the other day I went out with my camera, a slab of Kendal Mint Cake and a few vague ideas about the places that inspired me, and here's what I came up with. Obviously it's a very personal, provisional, partial selection. It would have been wildly different on a different day – say a day with sunshine. It was a very wet and windy wander about the lesser known attractions of our great city. I'm sure there are plenty of places I've missed or don't even know about. Let us know, we'd love to find out more about the city. If there's a place you think should be on the list/map then tweet us or put a comment below …
Anyway, here's my list.
1. Temple Works
I couldn't not choose Temple Works. What's an exact copy of an Egyptian Temple – the Temple of Horus, at Edfu to be precise – doing in Holbeck, less than ten minutes walk round the back of the train station? Well, I haven't the time to explain here, but it's big, it's bold, and it's beautiful, and it's Leeds at its most breathtaking. It's under repair at the moment but there's always something going on, check the website.
2. Slung Low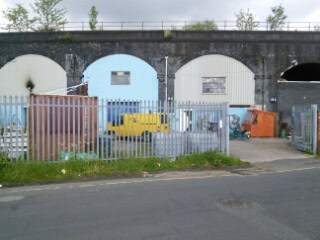 Around the back of Temple Works and based in the Holbeck Viaduct (once the biggest brick structure in the world, it dominates this part of town) next to car repair workshops and small engineering firms, there's a theatre company called Slung Low. It may not look like much from the outside but behind that blue door they've transformed a piece of industrial grime into a genuinely magical space, which is never the same twice. Slung Low encourage other groups (not just theatre companies, Culture Vultures had our fifth birthday party here) to use the space too so you never know what you might find going on in there. The other weekend they seemed to take over the whole of Holbeck with an enormous circus. What I like best about Slung Low is that they have pioneered a "pay what you can afford" system for their own productions and they genuinely encourage you along even if you're a bit skint so they get an audience unlike most normal theatres. They have a big loyal local following. And a toilet named after a certain theatre critic.
3. Holbeck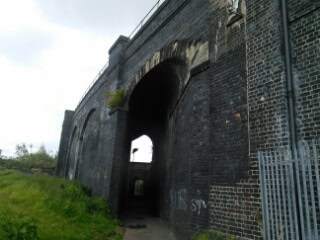 Holbeck is a fascinating place, crammed with curious historical facts. Czar Nicholas 1 came to Holbeck in the 1880s to study the factory system – which is why there's a Czar Street running down the middle – and a lot of the early engines on the Russian (and Indian) railways were built here. Many of engines that powered the steamboats along the Mississippi were built here too, which means that Huckleberry Finn may have begun his adventures on a Holbeck powered boat (or may not, it's just a likely story.) The Coop was founded here, and the railway trades union ASLEF.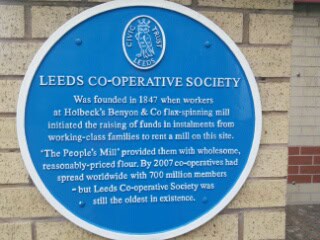 And there's the oldest surviving Working Man's Club in the country, which is about to rename itself simply, The Holbeck.
Holbeck also once had the prettiest public library ever! It's now home to a digital agency but it's well worth a look
The cemetery also has the oldest surviving secular building in Leeds, Cad Beeston Manor, dating from the 1400s. And, incidentally, it's got the best view of Leeds. When it isn't raining you can even see Bradford.
4. Canal Tow Path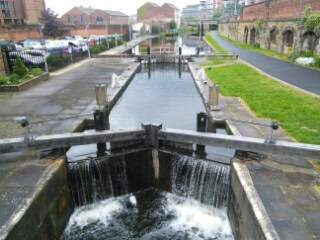 The canal is 200 years old this year and stretches 127 miles all the way to Liverpool. How they made water go uphill over the Pennines never ceases to amaze me.
If you walk from Office Lock, once you've left the clank and grind of the train station behind, it's almost like you enter a different world. Slower, quieter, gentler somehow. You'll often find people fishing, feeding the swans, or simply sitting and idling away the odd few hours beside the water.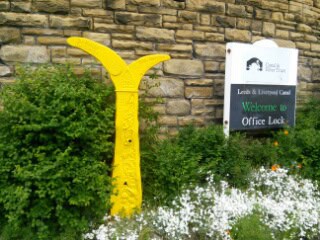 One of the less well known features of the canal towpath is the amount of really good public art along the route. It's part of the National Cycle Network, and did you know Sustrans own the largest collection of public art in the country.
The tow path is currently getting an upgrade as part of the City Connect scheme to build a cycle lane and footpath linking Bradford and Leeds – a pretty inspirational idea too!
5. University Edible Garden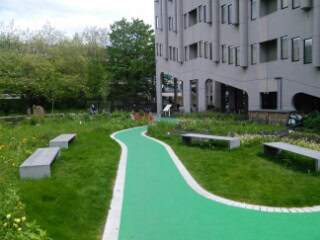 All the plants in this eco-friendly garden are edible and anyone can harvest what they like. It feels warm and friendly and human scale, like a well tended allotment, in striking contrast to the famously brutalist architecture that surrounds it. It's a perfect juxtaposition. And if you fancy a bit of extra salad for lunch you just reach out and grab a bit of wild rocket.
6. City Square
Forget the Black Prince lording it over everything in City Square, it's the eight nymphs surrounding him that are just gorgeous. As Colonel Harding, one of the great Leeds figures said as he opened City Square in 1903:
I know quite well that there are many persons who think that works of the kind – works for instance like Mr. Drury's beautiful figures in City Square – are quite out of character in a business place and in a dirty place like Leeds, let us by all means be proud of our great factory and workshops, but let us too be able to rise above the sordid and rejoice in the beautiful.
I agree with the Colonel about rejoicing more in the beauty of our cities, places like …
Trinity Church because it is such an unexpected place for a music venue – I saw the best British Sea Power gig here!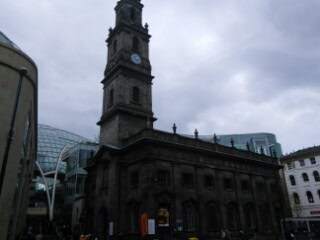 Victoria Gardens – great place to people watch in Leeds, and if it rains you can nip in the Tiled Hall for coffee.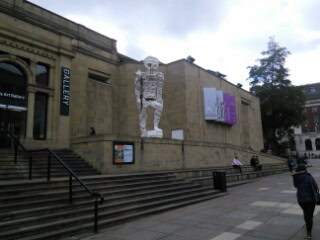 The Tetley – they've done a lovely job with the renovation and there's always something interesting going on.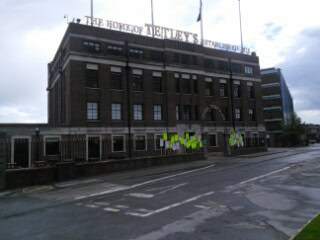 St John's/ Arch Cafe the oldest, and most beautiful church in Leeds, and next to it probably the friendliest cafe, The Arch.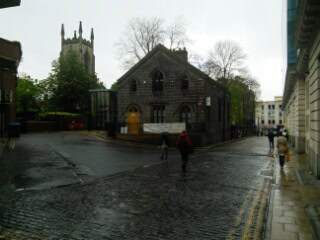 St George's Field – hardly anyone knows it's there, right in the middle of the Uni campus, with my favourite bench anywhere.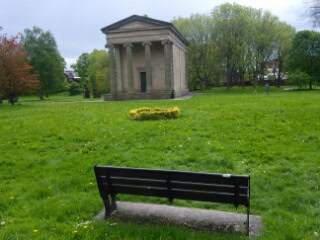 Angel Inn – Leeds has plenty of trendy bars, this is a proper pub … occasionally quite improper.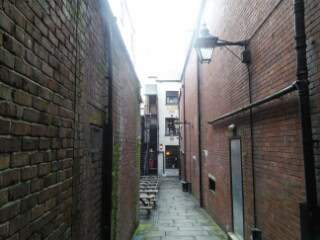 The Grand Arcade – Hardly hidden, but it is a gem.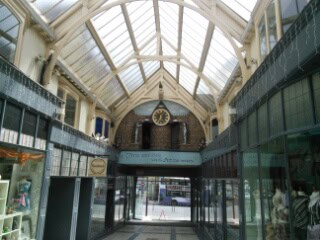 The Song Tunnel – When the email mentioned subways this was the first place I thought of. Subways have a dark, dangerous, depressing reputation, but this place is remarkably cheerful and welcoming.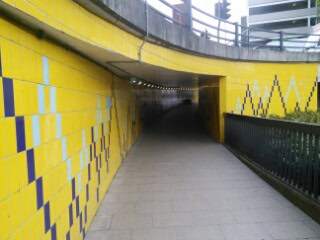 And finally,
just Look Up!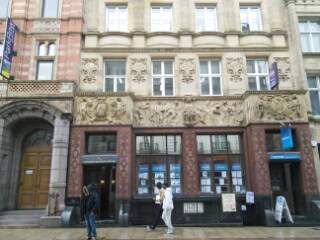 Most people walk around a city with their eyes glued to the pavement – or worse, to their iPhone. Look up! See what you are missing. Some of the most interesting, odd, unpredictable and inexplicable stuff in a city is happening above your head. Leeds has some amazing statuary, friezes and reliefs decorating loads of buildings above door level. And it's fun to spot.
So that's my dozen or so inspirational places – and yes, I am aware I may have counting issues, but I do think Leeds is full of out of the way, inspirational places.
What have I missed? What are your favourites? What would you put on the map?