After a few practice laps around the Leeds Outer Ring Road, ROBERT KILNER pushed the boundaries, driving around the edge of the West, North and East Ridings of Yorkshire.
Iceland has got its ring road, Scotland the North Coast 500 and America, Route 66. It's about time we had a classic road trip closer to home, for people like me that don't want to go very far.
That's how our late summer stay-cation became a Yorkshire odyssey.
Perfect for a possible no-deal Brexit world: no passports (whatever the colour), no customs control; global warming and its rising seas could wash even more of the roads and villages away, but it might be sunny.
Armed with a 1901 Bartholomew's map of Yorkshire, (and Google Maps), we waved Leeds goodbye. It would be over a week before we saw the bright lights of the city again.
Heading west, through Halifax and Hebden Bridge, we aimed for Slaidburn in the Forest of Bowland. Since administrative changes in 1974, it has officially been part of Lancashire, but our 1901 map said otherwise, so that's where we started.
To immerse ourselves in the indigenous culture, we had prepared a playlist: Def Leppard, the Brighouse and Rastrick Brass Band, Delius, Ziggy Stardust and the Spiders from Mars (the Spiders weren't really from Mars, they were from Hull) and The Jacksons' Blame It on the Boogie (written by a bloke from Pontefract).
And where we could, we ate local food like the Eccles and Chorley cakes on sale in Slaidburn's village post office. They've really embraced those early seventies border changes.
Here's just two of our high points, both quite pointy:
Day 4 Romaldskirk to Whitby
After overnight stops in Slaidburn, Ravenseat and Romaldskirk, we followed the River Tees a long meandering way, then took a sharp right down the coast to a Whitby hotel.
We stopped halfway, at the north-eastern corner of the county.
An unassuming road from Redcar passes a second hand car lot, a caravan site, and a golf course. The tarmac continues through scrubby dunes and salt marsh. Private and No Shooting signs appear as the landscape unfolds into a breakwater called South Gare.
The Gare isn't as old as the hills or the rivers. It's not even as old as the county. It's artificial, a Victorian project to protect and tame the river; millions of tons of blast furnace slag, mixed with muck dredged from the riverbed were recycled to sculpt this wedge, now part of a triple SI (a Site of Special Scientific Interest).
Looking south, from the lighthouse at the tip of the Gare, a forest of wind turbines rotate down the Cleveland coast. The view inland looks like a knackered old amusement park.
The recently paused, then mothballed, then closed steel works – last owned by a double SI (Thai firm Sahaviriya Steel Industries) – is still standing. Monumental sheds, rusty pipes, and conveyor belts sit in front of hills mined for ironstone in the nineteenth century.
Further upstream, vast industrial estates are said to have inspired local lad, Ridley Scott's dark opening credits for his film Bladerunner. Plumes of steam and smoke rise from the chimneys and cooling towers, adding to the clouds blown in from the sea.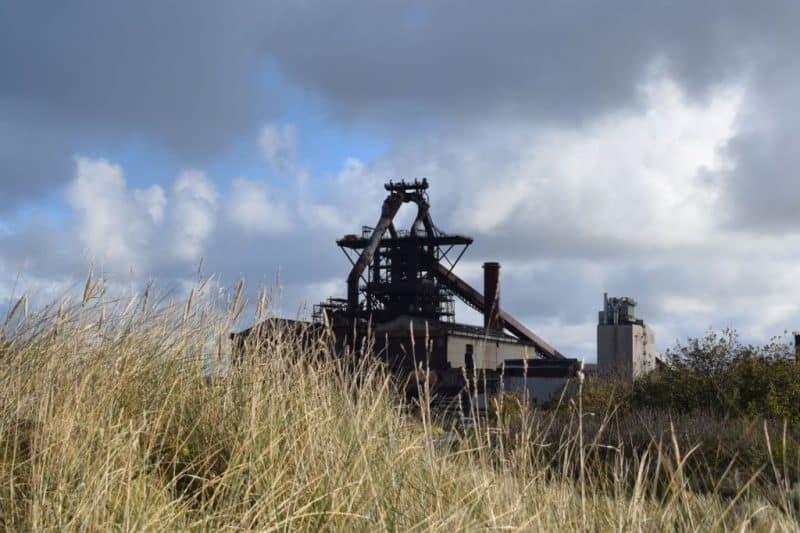 In the midst of all this expansiveness is a small harbour called Paddy's Hole and a collection of huts, each painted the same Monopoly house green.
There's a warm friendly café at the South Gare Marine Club. The top floor provides a perfect spot to view the supertankers and eat the huge Sunday roast on offer for less than a pint in some Leeds bars.
This is the first time I've heard of South Gare or been. I feel I've discovered something, like Captain Cook probably felt when he discovered Australia.
Day 5 Whitby to Spurn Point
By this point we had ditched the playlist of Yorkshire themed music. Instead we tuned into the phone-ins and forgotten songs of local radio.
As we drove from Whitby to Spurn Point Bird Observatory, where we were to spend the night, Seaside 105.3 was hosting calls on doorbells and their uses.
At the Observatory, over a brew, Graham, one of the guests, explains that the migrating birds have their own opinion on the shape of Yorkshire. It's a funnel.
If the birds at Whitby Harbour are anything to go by it's a funnel full of chips, which they fuel up on before heading to warmer climes – a deep-fried signpost to the continent and beyond.
Spurn Point is South Gare's older sibling. Much, much older. A book in the observatory gives the history of the area. Spurn is ancient and natural, but drifting, like a slow, solid wave.
Since Roman times it has moved west, by around three miles. In that time villages, pubs, a priory and a port, all built on the soft land called Holderness, have disappeared.
Over the last 10 thousand years, the coastline of this part of East Yorkshire is thought to have retreated by around twelve miles.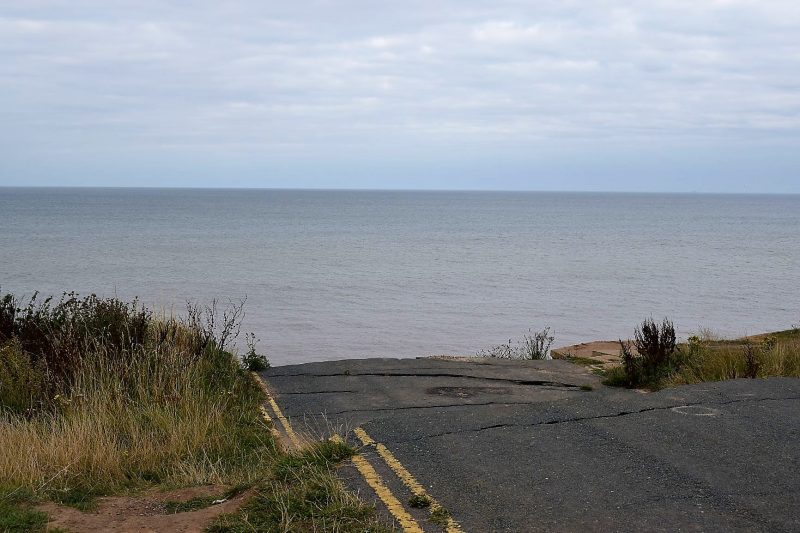 The Observatory was quiet. Most residents were out looking for a rare species of something called a shrike. Graham, who was from Barnsley, offered to draw our portraits. He tells us he used to be a teacher.
"Who'd you teach?" I ask.
"Bastids."
From listening to his tales you could see he meant it in a loving way. We packed the car and set off along the Humber estuary. Next stop Sheffield…
In these days of increased interest in borders, it's fascinating to see how the shape of a county has been defined. Natural forces and bureaucracy both have had an impact. Yorkshire is thought to be about a thousand years old, first mentioned in a royal writ around 1060.
Looking at a map it's easy to see the original outline is defined mostly by geology; the spine of the Pennines, watersheds, headwaters, rivers and sea.
But it's not fixed. The east coast is crumblier than the Chorley cakes sold in Slaidburn Post Office.
And, while nature takes its course, people will continue to debate and redraw the borders. In the meantime the old Yorkshire frontiers are there to explore. I'm calling it God's Own Ring Road.
Robert Kilner is a writer, flâneur and stockbroker. His Workers Lunchtime project encourages people to adopt a more creative approach to their lunch-hour. Just don't call him a lunchtime loafer.