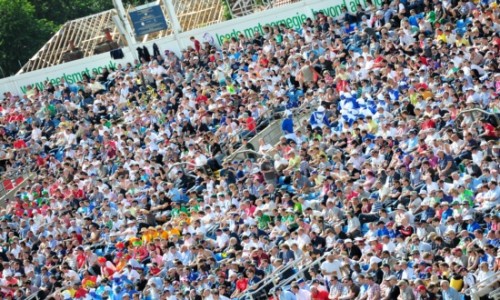 Everyone should have a bucket list, not just full of stuff that's dependent on retirement or a lottery win, but it should also include those things which don't cost the earth; those things that aren't usually on your radar; things you just never get around to doing.
One such thing for me was that great British institution – cricket. Given my Pakistani heritage – cricket is the most popular sport in Pakistan – it was somewhat embarrassing to admit that I'd never been to a match. But all that changed last weekend, as I joined the crowds during day three of the England versus New Zealand test match at Headingley. There was much to learn, given my beginner's status. To be honest, I didn't even know the difference between 20Twenty and test cricket, nor that the Ashes only ever involves the same two teams (Australia and England, it seems).
Luckily though, cricket is an incredibly social occasion. Armed with great weather, a cricket companion and a posh picnic (bruschetta, mackerel pate, expensive crisps – that sort of thing), I found myself surrounded by cricket aficionados only too willing to explain the rules of the game. Sitting beside me was a Respect councillor from Bradford. Not only did he seem to know his cricket, he also offered to share his flask of tea and custard creams. The gentleman sitting in front was clearly an expert since he appeared to be spending his retirement following the England cricket team around the world.
The cricket fans were keen for me to understand that what the game lacks in speed, it makes up for in strategy. Amid the regular sleepy applause, they enthused about the different variables involved in the game. They spoke passionately about deteriorating wickets, about degenerating pitches, about the ball moving in different ways, about seam bowlers, spin bowlers and batting partnerships.
I also gained an insight into the cultural side of cricket. I hadn't realised that the grown men wearing fancy dress, including one dressed as a toadstool (yes, really) were merely following tradition. And just to clarify, the men were doing this entirely voluntarily. I mean, they weren't being paid to dress like that in public!
Perhaps the most exciting part of my day at the cricket was witnessing the longstanding tradition of stacking numerous empty plastic beer glasses to construct a beer snake. It's called a snake because the plastic glasses stacked together form a flexible, snake-like tube, which requires several people to hold it together. Although strictly prohibited, the tradition is hugely popular and tends to take place in the late afternoon, apparently after both sun and beer have worked their magic.
The activity is also participatory since it relies on cheering spectators to pass their empty beer glasses to the 'artist' to add to the snake to make it longer. According to Wikipedia, some beer snakes have reached 175 metres – but sadly, the one I witnessed fell a great deal shorter than that.
Irna Qureshi is an anthropologist and writer on British Asian culture. She also blogs about being British, Pakistani, Muslim and female in Bradford.