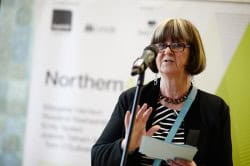 Margaret Harrison (72) was announced the sixth winner of the Northern Art Prize at Leeds Art Gallery on Thursday 23 May 2013 in front of several hundred guests. She was presented with a cheque for £16,500 by Co-Editor of contemporary art magazine 'Frieze' and judge Jennifer Higgie with each of the remaining shortlisted artists Rosalind Nashashibi, Emily Speed and Joanne Tatham & Tom O'Sullivan awarded £1,500.
The judges, comprising Tomma Abts, Turner Prize-winning painter; Margot Heller, Director of South London Gallery; Jennifer Higgie and James Lingwood, Co-Director of Artangel visited the Prize exhibition of new and recent work by all of the shortlisted artists earlier in the day with Sarah Brown, Curator of Exhibitions at LeedsArtGallery and chair of the judging panel.
They commented:
"The judges acknowledge the challenge involved in considering artists at very different stages in their careers. After much deliberation, we have decided to award the Northern Art Prize 2013 to Margaret Harrison for vital new work that reflects on her 50 year career at the front line of art and activism."
For the Northern Art Prize, Carlisle-based Harrison chose to exhibit several new pieces of sculpture, painting and drawing, together entitled 'Reflect'. The work includes 'Common Reflections', a development of her 2012 Berlin solo show 'Fear Forgetting'.  This new installation consists of two opposing constructions of concrete posts, wire, mirrors and corrugated zinc sheeting and is strewn with personal items – children's clothing, toys, photographs and kitchen ephemera.  It was initially produced to picture the occupation of a site adjacent to Greenham Common in the 1980s.
Also featured is 'The Last Gaze', inspired by the original painting 'The Lady of Shalott' by John William Waterhouse (1894), part of the LeedsArtGallery collection. 'The Last Gaze' reflects on the Waterhouse original in a pairing in both color and black and white, adjacent to which are positioned automobile rear-view mirrors which reflect Harrison's piece, conflicting and confusing perceptions.
Margaret Harrison has been producing work that negotiates the difficult territory of politics, sexuality and irony since the 1960s. A series of her feminist drawings, described by the New York Times as "Superhero Shemales", was buried until the late 90s and early 2000s, caught between prudishness and suspicion at the sex object debates in the women's movement.  Harrison's drawings found a new relevance and respect from audiences when they were exhibited at Intersection for the Arts in San Francisco in 2010, as part of 'I am a Fantasy' at Payne Shurvell Gallery London in 2011, and in 2012 in her first solo exhibition in Berlin 'PREOCCUPY' at Silberkuppe.
Visitors to the exhibition have been voting since it opened in March 2013.  In only the second year since the Prize began visitors and judges have agreed on a winner with Harrison also voted the public's favourite.
The Northern Art Prize was founded in 2006 by Director Pippa Hale in collaboration with design and communications agency Logistik Ltd and Leeds City Council who continue to support the Prize in this its sixth year with new partners this year Park Plaza Hotel and Leeds and Partners.  Pippa is also Co-Founder and Co-Director of PSL [Project Space Leeds] with Kerry Harker which, this year, will open a new contemporary visual arts centre for Leeds, transforming the iconic former Tetley Brewery headquarters building into a publicly accessible creative facility, 'The Tetley'.
The Northern Art Prize exhibition runs at Leeds Art Gallery until 16 June.