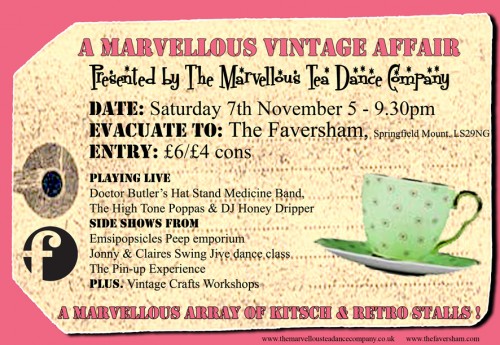 The Marvellous Tea Dance is heading to The Faversham on the 7th November to tempt us all with a dazzling array of vintage inspired delights! Now, as regular readers may know, here at The Culture Vulture we are big fans of anything that includes an opportunity to indulge in some cake and, from lots of previous experience, we know that the Tea Dance Ladies can certainly bake up a storm so we will definately be indulging at this Marvellous Vintage Affair.
The Marvellous Tea Dances are amazingly fun at the best of times but this event promises to be one of the most spectacular to date as it sees the addition of  lots of extra vintage goodies. There will be vintage inspired stalls selling their wares, visuals from the Hyde Park Picture House and the chance to take a peak at a saucy vintage peepshow! Grab your your dancing shoes and take part in Jonny & Claires swing jive dance class or pull up a pew and have a go at making some bunting or vintage inspired accessories.
I'll let you into a little secret here, and for the sake of full disclosure obviously,  if you do come along you will get the chance to see your very favourite editor (yes that'll be me dear readers!) in action. Not only will I be guiding you through how to make your own vintage inspired accessories but the Marvellous Vintage Affair sees the long awaited return of one of my personal little projects Dr Sketchy Leeds so if you are around between 6 and 7pm then why not grab a drawing pad and pencil and get sketching some gorgeous cheesecake pin ups in their vintage lingerie – I may even do a little bit of compering!

The Marvellous Vintage Affair will be held at The Faversham on Saturday 7th November between 5 and 9.30pm so why not head down and say hello! Tickets cost £6/£5 NUS but if a whole heap of you are planning to come down then why not drop a little email to fran@thefaversham.com to find out more about group bookings/discounts. Hope to see you there!