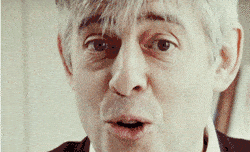 Described by a former colleague as 'one of the angriest men I have ever met,' Andy Miller couldn't be nicer or more accommodating as he chats via mobile phone about his new book The Year of Reading Dangerously. Basically an account of a year spent reading fifty great books (and The Da Vinci Code by Dan Brown), the book functions both as a call to arms and as a vent for Miller's spleen. Imagine The Communist Manifesto (one of those tackled) with better jokes and increasingly pedantic footnotes.
"I'm not quite sure where it lives in the bookshop," says Miller about his book. "Is it literary criticism? Not really. Is it autobiography? Well, it's sort of got elements of autobiography. Is it a comedy book? Yeah, it is a comedy book." Reggie Perrin creator David Nobbs certainly thinks so. He has called it 'challenging, controversial and very funny,' a quote which made Miller's day when it appeared.
The premise of the book is a disarmingly simple one. Recently married and relocated to the Kent coast with a new child, and with a significant birthday fast approaching, Miller came to realise that, despite spending much of his adult working life as, variously, a seller, an editor, a publisher and a writer of books, somewhere along the way he had actually ceased to love reading them. His response was to make amends by reading fifty of some of the most challenging books ever written and then turning the experience into a book of his own.
Not surprisingly, Miller does not subscribe wholeheartedly to this view. "There was an element of hair-shirt, where I had to atone for previous misdemeanours," he agrees. "But I tried to find a balance really between different levels of difficulty or just things that I felt like reading – either what I wanted to read or felt like I ought to have read."
The book has found a fiercely loyal audience, whilst still managing to irk a few purists. (The inclusion of Krautrocksampler, Julian Cope's highly personal survey of the post-war German music scene, seemed to provoke The Guardian's Clare Harman unduly out of all proportion in her otherwise appreciative review.) Miller's Twitter feed carries forward the discussion, often with hilarious and contradictory results. He seems more than happy to embrace both flattery and dissent as part of the healing process.
"One of the things I wanted to do to people is to make them laugh. But also I sort of hoped it would inspire people," explains Miller. "What I genuinely tried to do was set down how I felt both intellectually and emotionally about those books that I'd read. So to some extent the book is full of bibliographical ephemera, like footnotes and appendices, because it felt appropriate to a book about books by someone who loves books and knows a lot about them."
One justly celebrated chapter in the book revolves around some of the surprising similarities Miller divines in Herman Melville's Moby Dick, and Dan Brown's The Da Vinci Code ('Whale versus Grail'). Through a series of increasingly audacious, yet perfectly plausible, correspondences, Miller argues the case for a 'love-match' between the 19th century literary heavyweight, and his much derided modern counterpart. Chuckling down the phone, Miller says. "Dan Brown functions purely as narrative and on no other level; Moby Dick fails as narrative, but succeeds on every other level."
With Slung Low currently staging The White Whale, a new adaptation of Moby Dick, within the watery confines of Leeds Dock, the conversation turns briefly to director Alan Lane's comment that when he 'promises the impossible,' no-one ever listens beyond the first sentence. "You've got to have the concept and you've got to do something interesting with the concept," says Miller, a statement with which Lane would presumably identify. "What I hoped to do in The Year of Reading Dangerously is start from what you might perceive as a stunt – not quite like going round Ireland with a fridge, but similar to the gentleman* who wrote the book about reading the Encyclopaedia Britannica in a year [*A J Jacobs – The Know-It-All] – and then, as the book goes on, it sort of stops being that book and becomes a book about something else."
In this regard, the influence of Melville's novel – whose obtuse, allusive narrative style so infuriated readers when it was first published in 1851 – can be felt throughout Miller's own book. "The glory of Moby Dick is partly in its difficulty, and the glory of a book like Under The Volcano by Malcolm Lowery is being a book you're not intended to untangle on first reading," he says. "I didn't feel that I could merely tell the reader that I thought it was good that one read difficult books, but that I had to show them that, even within the structure of my book, I was going to make them work pretty hard."
It is a strategy that he admits may have cost him the goodwill of some readers who purchased The Year of Reading Dangerously expecting a few suggestions for their bucket-list. "I don't want to sound pretentious, but what I was trying to do was take a concept and de-construct it," explains Miller firmly. "I rather like the idea of, having presented you with a concept, it then seems entirely appropriate to grow increasingly exasperated with that concept as the book goes on."
There is no doubt that Miller places great demands on his reader, but always with the promise of a truth regained. "Where the concept of the book both falls apart and comes together is where the contrivance of reading a list of books is replaced by a genuine passion again," Miller says. "Because that fundamentally is what happened to me when I was spending that year. I started off doing it programmatically, if you like, and I ended up restoring my love of actually reading for its own sake."
In this regard, Miller has become something of an unlikely Mr Motivator. "I do this talk called Read Y'self Fitter, and Point 4 of that talk is that when reading a book, there is no substitute for reading a book." Perhaps he is recalling the incredible moment in the Year of Reading Dangerously where he encounters a reading group for whom 'heavyweight literary discussion' is reviled? "There was a reading group advertised in the town saying we invite everyone to take part: you don't even have to read the books for this group." He pauses before adding. "That's not a reading group. Nor is it reading."
For every person who has ever lied about reading a book they haven't read, or felt guilty about the number of books on their bookshelf which have never been opened, The Year of Reading Dangerously is for you. Likewise, every person who has ever read a book more than once, The Year of Reading Dangerously is for you. It is a beautiful and profound meditation on why reading matters in these distraction-rich times. It is entertaining and moving and troubling and exasperating in equal measure, but isn't that what a great book looks like?
As the interview comes to a close, Miller puts it far more simply. "You go through life. You turn it into something that isn't life. It comes back out the other side as something that feels like life. That's the idea."
The Year of Reading Dangerously by Andy Miller is published by 4th Estate Books.
He will be bringing his motivational talk, Read Y'Self Fitter to the Buxton Literary Weekend, Buxton, Derbyshire on 31st October.