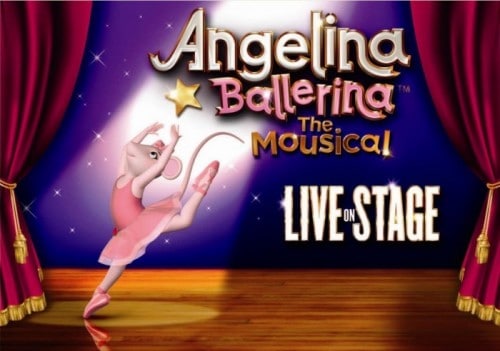 If you're the parent of a little girl who loves ballet and all things pink and girly, then you'll no doubt have lived through the Angelina Ballerina phase. It all began in our household when my little girl received an Angelina DVD for her third birthday which before long, became compulsory daily viewing. Next came the Angelina Ballerina books written by Katharine Holabird and illustrated by Helen Craig. My daughter started ballet lessons shortly afterwards, thanks to the positive influence of that little pink tutu clad mouseling from Camembert Dance Academy. Four years on, my daughter may have outgrown the Angelina phase, but the idea of going to see Angelina Ballerina the Mousical live on stage at Bradford Alhambra was still too irresistible.
The show was frankly nothing special, doing little more than cash in on the popularity of the television series. For such an established children's brand, the costumes, the actors, the songs and the dance routines seemed highly unimaginative. You could easily forget that the characters were supposed to be mouselings, were it not for the long tails they were all sporting. Even the storyline was uninspired; the Camembert Dance Academy has been selected for a televised talent show, and the students must work together to choreograph a dance routine and prepare costumes and props, and do Miss Mimi proud.
Not that my little girl was complaining though! What she cared about was that the characters she knew so well – Angelina and Alice and Viki and Gracie and Marco and AJ – had all come to life on stage. And so the Angelina Ballerina revival has begun, and I'm pleased to report the books are being read all over again.
Irna Qureshi blogs about being British, Pakistani, Muslim and female in Bradford, against a backdrop of classic Indian films.