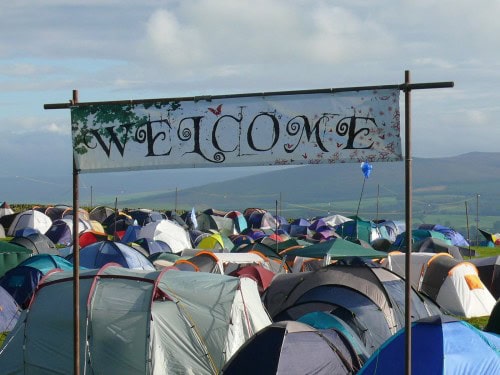 So once in a while we all deserve a break from the daily grind don't we?  Closing date 28th May Click here to win and tell us why it should be you.
We have mentioned in previous editions the rather gorgeous Moor Music Festival, August 6th – 9th, which is now in its fifth year and already having to move to a much larger rather bucolic-sounding location.
Ah, picture the rolling hills, bleating sheep, dry stone walling, and a disused railway tunnel for adventuresome types. Imagine lying on your backs and watching clouds scudding across a vast blue sky. Meanwhile, back at work…!
Anyway, it's just as well they have a roomier home, because the festival is bound to attract a whole new crowd this year, as it is the only Yorkshire fest to be featured in the new 'Cool Camping's Guide to Festivals'. Described as "a mini Glastonbury for the North", we recommend it if you fancy a summer holiday sensation without leaving God's own county. Buy your tickets now – don't leave 'til August!
So, one lucky lucky winner and their guest, will be treated to this truly brilliant bespoke prize!*
Prize includes: Weekend tickets for two, limited edition T-shirts and bags, and lots of other treats from the organisers' office – promo CDs from bands, stickers, Post-It notes…you think we are kidding?
As if this wasn't enough, The Culture Vulture, with the help of our friends on Twitter, are putting together the essential 'Festival Survival Pack', featuring ActionWipes, and a special cardboard loo from The Brown Corporation. We don't want to spoil the surprise but let's just say that the pack will keep you warm, clean, happy, fed and watered!

*The lucky winner of this fabulous prize was Kirsty Fisher from Sheffield – whoop!!*
Image Credit:
Moor Music Festival, Lucy Barker (c)2008