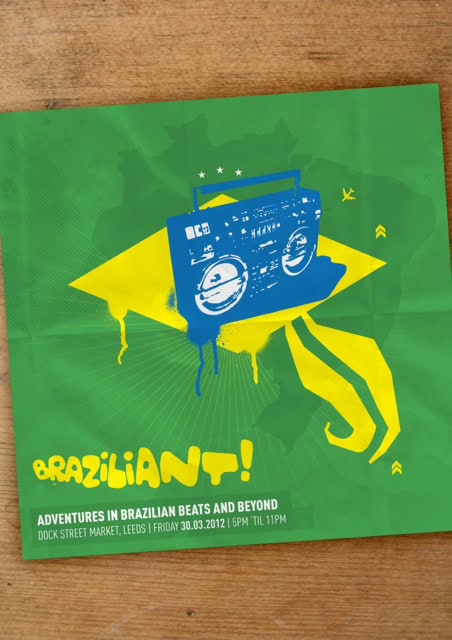 Guest blog by Robert Page
Starting life in 2006 as a Brazilian Music, Arts & Culture Festival situated in Middlesbrough we showcased everything from Capieora, Dance, Music, DJ's, art and food at a bi annual festival situated at mima in Middlesbrough. We've played host to dj's from the legendary Gilles Peterson to the god amongst men DJ Cliffy (if you ever get chance to witness him don't miss the opportunity!), Lady Jane Bongo, Fabricio D Vyzor, Spiritual South and Human Factor.
We started out with humble beginnings in a vegetarian café at an event call Musica Brasilica, before growing into a fully fledged cultural event, but alas all good things must come to a (temporary) end! The funding streams we're cut short, so we decided to take a short sabbatical before finding Dock Street Market. We gave the guys some cd's, they loved them, now Braziliant! is to be held on the 4th Friday of every single month…. Hoooooraaaaah!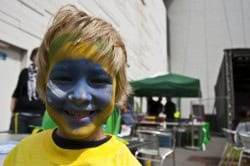 Our aim is to build a steady fan base in Leeds, and use the energy in the city (I used to live in Stanningley for a while, and I'm now based in Middlesbrough) to grow it once again into a festival or bigger event, with the ultimate dream to bring Brazilian Drum n Bass legend DJ Patife over to the city and have DJ Cliffy play at Dock Street Market. Good Times.
Braziliant! has a strong visual identity and links with Brazil, but the music isn't just from Brazil but from Brazil loving sources all over the globe, so you'll hear classics, funky samba's, batucada & bossanova, laid back sun soaked drum n bass, vintage Brazilian funk & soul, and even new electronic gems from the land of plenty.
As we grow, we aim to create better links with Leeds Brazilian community, and bring in artists, musicians, singers and dance…
Watch this space!