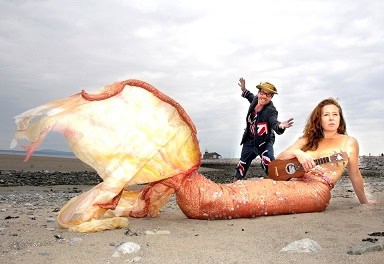 To celebrate Dickens' 200th anniversary Leeds-based theatre company Captain Mermaid take their new show Captain Murderer and the Morecambe Mermaid out on the road.
Created and performed by Lisa Howard – fresh from her brilliant turn in Red Ladder's Big Society – and John Barber, this two-man exploration of addiction, sexual exploitation, immigration and kiss-me-quick seaside cheekiness tells the story of a drunken end-of-the-pier show owner and his star attraction, 'The Morecambe Mermaid.'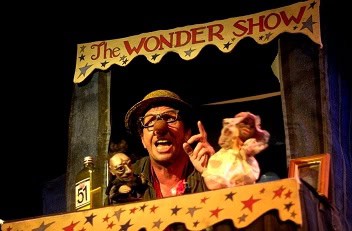 He's trying desperately to tell his favourite story, a version of little-known Dickens short story, 'Captain Murderer,' about a dastardly captain who marries women before eating them in pies, but it's not going well.
His foul-mouthed daughter Tanya is more of a hindrance than a help and he could really do with a drink. All the mermaid wants is to get back to the sea, but he's got something that she needs. Following their stories as they intertwine across Morecambe, from the beach to the fish monger, a hotel lounge to their washed-up end-of-the-pier show, this new production is a fast-moving parade of puppetry and masks, illusions, projections and original songs.
Captain Mermaid Theatre Company is based in Chapel Town, Leeds and makes small-scale touring shows aimed at theatre and cabaret audiences. They say Captain Mermaid is driven by a desire to create intelligent funny populist theatre, and to promote theatre skills within the region, through delivery of integrated workshops in masks and puppetry and skills sharing.
 Yorkshire dates on the tour are:
29th March, Square Chapel, Halifax. Box Office 01422 349422
squarechapel.co.uk
30th March, The Mart Theatre, Skipton. Box Office 01756 706460
themarttheatre.org.uk
31st March, York Theatre Royal. Box Office 01904 623568
yorktheatreroyal.co.uk
13th April, Leeds City Varieties. Box Office 0113 243 0808
cityvarieties.co.uk
For details about the company please visit www.captainmermaid.co.uk