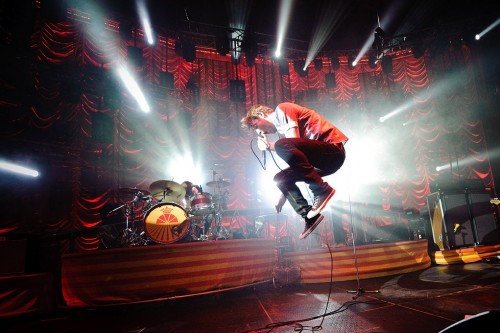 Hi Danny, we have long stalked you as you seem to have a job people would die for, tell us more about what you do?
I'm a music photographer, which basically means I travel about shooting bands for the NME Magazine mainly, but I also shoot for Spin in NYC, the Guardian, Rock Sound and many other publications.  I'm also Kaiser Chiefs' tour photographer, which means I go out on the road with KC shooting gigs and backstage shenanigans.
Really how dull! What is so good about it, as we can't quite understand the attraction…
Haha…  I get to have a few adventures as well as satisfy my creative side.  I have flown over and around Leeds festival in a helicopter a few times, which is a total buzz.  The job gives me opportunity to travel, which I love dearly.  I've shot festivals all over the UK, the States and Europe. It's almost ideal, the only thing I'd swap it for is to be in one of the bands instead!
Any downside that you can think of?
The exotic traveling is out weighed by the vast majority of my work taking place in cites and towns around the UK, which usually means bad food, grumpy security, drunk and abusive punters, with the odd need for self defense thrown in.  The irregular hours mean I get to see my friends about once a month if I'm lucky, I don't have the security of a salary, holiday or sick pay.  I work about 12 hours a day on average, but this often extends to 18 hours a day when shooting festivals.  I'd probably earn 5 times as much shooting family portraits, weddings and pets, but then I'd probably have to kill myself, I'll take the lower wage and fun over the higher wage and certain death.

Whilst you are here, is there anything or body that you would really like to plug this month?
There is a photography exhibition at the North Bar that my assistant Tom Martin has organised with a few more up and coming photographers.  Tom is a great photographer and does now what I did a few years back, document the Leeds music scene to quite a vast extent.  Also, a good friend of mine has just opened a new venue in Leeds, it's called Nation Of Shopkeepers (where the Courtyard used to be), it looks like it's going to be a pretty amazing place for food and bands.
If you were granted the freedom of the city of Leeds what would you do with that power?
I'd probably shut down half of the city centres crappy night clubs, force live music onto people, and make all pubs and bars carry Rooster cask ale.  Then I'd have a 100ft bronze statue of myself erected right outside the train station to welcome workers, visitors and holiday makers alike to our fair city.  Obviously I'm being modest, I think perhaps 150 foot might be more appropriate.
Finally, we have a bit of a 'talent in design' theme going on in June, which northern designer/artist/illustrator do you think our readers should keep an eye on?
I regularly work with a couple of guys from the north, one is called Martin Simpson he worked on the Forward Russia LP cover with me, and the other is a long time collaborator Graham Pilling. Graham designed the book cover I had to accompany my first solo exhibition last year, but specialises in limited edition hand printed gig posters, they are a thing of beauty.  It's pointless describing how good they both are when you can see for yourselves with a click or 2!