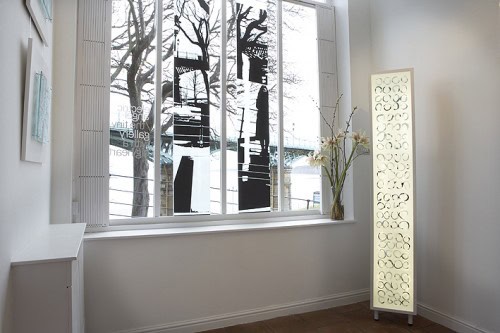 We found this Electric Angel or they found us about one week ago, and already we are itching to get along to their office and hang out for the afternoon…We asked our soon to be regular blogger Adrian about their welcoming office space.
So why did you decide to turn your office into a gallery space?
Well, high on our 'wish list' was having a studio with a sea view – cos heck, we spend enough time at work, so why not have something nice to look at? So when the perfect place came up for grabs and was on one of the main tourist routes from the south bay into the town we thought maybe we ought to at least put something nice in the window for people to look at as they passed. Our studio is two old shop units (200 years old, we think) knocked through and one half was going to be the meeting space and we thought it'd be nice to have something on the walls by someone other than us. Then we thought 'why not open it as a gallery?' It's pretty compact but our aim is to provide a space where local emerging artists can have a solo exhibition and being small makes that not too daunting a prospect.
Are you the smallest gallery in the UK?
Possibly the smallest permanent gallery – students have set up galleries in portaloos and lockers and last month an alcove in a wall in cardiff claimed to be the smallest in the world, but all have been temporary projects. Ours is here to stay, and is is at least big enough to wander round – claustrophobic's don't have too much to fear. We like to call it 'the tiny gallery with a big heart'.
What exactly does your company do to earn a crust?
We're graphic designers. We work with public sector, voluntary sector and arts organisations. Probably our highest profile work was rebranding the Boys' Brigade a few years ago (we're now working on their recruitment material), we work with several arts festivals in the area and we helped scarborough win the european enterprise awards in may of this year. We've also worked on a few public art projects and are currently working with artist Rachel Welford (the first artist to exhibit in our tiny gallery) on glass panels for lifts in York Hospital.
What would entice a reader to come pay you a visit in Scarborough?
Do you need a an excuse to visit Scarborough? People have wildly differing views about scarborough, usually depending on when they first visited. Before we moved here we usually used to visit in the winter and spring and the summer crowds are always a bit of a surprise, even after 6 years of living here. So i guess we know a different side of the town – one that has a vibrant live music scene, loads of arts activity and a genuine buzz about reinventing itself. So call in and we'll share all that with you.
What do you want to plug right now?
Well, as seen as i'm going to be regularly sharing some tasty east coast cultural nuggets with you from now on, i don't want to give them all away at once… i'll give a big shout to 'Coastival'  which was a major arts festival in Scarborough that happened for the first time in February this year and plans are already underway for 2010. In June there's the Scandinavian Festival of Music in which youth brass bands turn up in town and play guerilla gigs around the place for a week – it's probably something to do with my mis-spent and somewhat geeky youth but the sound of a distant marching band always gets my pulse racing. And don't forget our new exhibition at Electric Angel – paintings by Malcolm Macdonald which is on now and runs until September.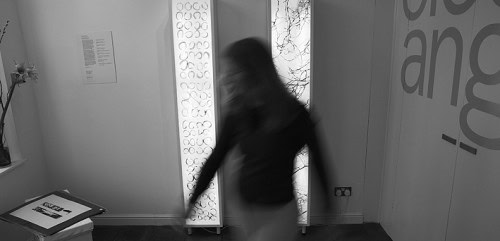 Photos by local photographer David Chalmers took for Rachel Welford – our first exhibiting artist. He specialises in photographing glass (Rachel's main medium) and was recently commissioned to photographed the world's biggest diamond in the Tower of London. David has done some lovely work – we bought one of his prints of the sea washing over the sea defences in the south bay – the spot where we christened our son, Dylan.