Salford Mods : Jack Hale (left) and Eddy Rhead of The Modernist Society
Ahead of theCV's collaboration with Colours May Vary to launch the Leeds Chapter of The Modernist Society, original founders JACK HALE and EDDY RHEAD talk to NEIL MUDD… 
Before starting The (Manchester) Modernist Society, founders Jack Hale and Eddy Rhead (with Maureen Ward) consulted business models from three organisations: the Women's Institute, the Scouts and the Mafia.
Nearly a decade later, the two preside over a growing family of city Chapters. They are a classic double act: one clean shaven and understated, the other bearded and ebullient.
"What happened was we were pootling along very nicely by ourselves for about five years, working in isolation, just doing our own thing," explains Eddy, the bearded, ebullient one.
"Then all of a sudden we seemed to be getting a lot of interest from other cities, probably because we built a bit of a reputation for ourselves doing events in Liverpool and Sheffield."
A development they always sought to encourage, it was merely a lack of resources – the Society remains a two-handed to mouth operation – which meant the pair had to wait for interested others to contact them.
"Also we didn't want to impose ourselves," interjects Jack sotto voce.
"We are quite chippy," agrees Eddy. "We've done events in Liverpool and Sheffield and I've always been really self-conscious about speaking in a Manchester accent about stuff which isn't mine. We always wanted people on the ground to do it."
To date the two most prolific Chapters of the Modernist Society have been Birmingham and Liverpool which Eddy attributes to interest amongst 'university types.'
Collaboration across the board is very important and is enshrined in the Society's founding principles as 'a creative project dedicated to celebrating and engaging with twentieth century architecture and design, through publishing, events, exhibitions and creative collaborations.'
"The ideal mix (would be) two people forming a core," says Eddy. "(Ideally) someone who has lots of contacts, who can get into places; someone who is a keen amateur who has a lot of knowledge and who can then flesh up any event."
"Where chapters have really taken off is when we've had a local individual with lots of skills and knowledge, but also the time. The key is having a clear idea about what you want to do. We're very conscious not to say we think you should do this or we think you should do that because different cities have different interests."
"We only really want to manage expectations of ourselves," says Jack. "We're here a lot which is why so much gets done. We're very lucky because we've got the time to do it. Because none of the Chapters are defined, as long as people only expect three talks a year that's fine, but if they expect what we do here then that's never going to happen, unless you can find two full time people who are willing to spend all of their time doing it."
Jack and Eddy think it a reasonable expectation for the other chapters to organise at least four events a year, but stress it is only a notion.
"At the same time, without sounding like a wanker, we've built this brand and we're quite keen to protect it," says Eddy. "Any programme of events has to be good quality. We don't want anybody going rogue or doing some bad shit which would ruin all the hard work we've done over the last ten years. We'd rather do less good events, than loads of just mediocre stuff."
A cursory glance at the Society's October Events reveals a walking tour based on an exhibition of drawings by architect Gordon Hodkinson, an Architecture Weekender in Sheffield and a screening of archive films about New Towns.
Add to this a quarterly printed magazine, a nice line in small-press limited editions about 20th century architecture and design, plus some cool prints and t-shirts, and it is clear the Society sets its bar deliberately high.
"It's just grown," says Jack. "It was never us knocking on the door of the Head of Architecture or School of Arts asking, can you provide staff or something? These are individual contacts rather than institutions or groups of people."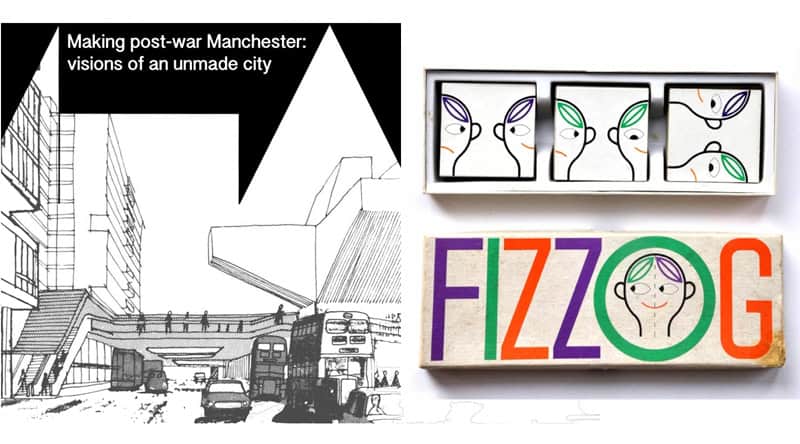 Richard Brook and Martin Dodge's 2016 Making Post War Manchester exhibition is a case in point.
"It's good because it's symbiotic," says Eddy. "Richard will have his own hobby-horse that he wants to do and he can't really do it within the university because it doesn't fit into what they do. It's brilliant for us because he has this wealth of knowledge and we have some time and money, and we just bask in the glory."
"It was quite a lot of work which (Richard) and his students put together," says Jack. "Our job was to reach people which he can't as an academic, so he uses us in that sense and we use him. We did an exhibition about Galt Toys. We had somebody come to us who we work with regularly, but it was all there. We didn't have to fund raise or anything."
Part of the reason for our meeting is to sound out one another about setting up a Leeds Chapter of the Society. It does seem strange that while Liverpool, Birmingham, Sheffield – even Croydon – each has a dedicated group, Leeds does not.
"We've been approached by people in Leeds before about starting a society, but there was always – How can I put this? – an issue of low self-esteem," says Eddy. "They'd say, 'We'd like to start a Leeds Modernist Society, but we're not sure there's much here…'  (That's) not really approaching it in the right way."
"We've done a couple of social events in Leeds, but that was in the suburbs. The suburbs are a lot more satisfying than the city centre is in a lot of ways. That could have changed, I don't know. The scales could fall from my eyes and I'd find there is lots of interesting stuff in the city centre… It's about having the imagination."
"We've never had any strict rules. It's always been organic," says Jack "It is largely architectural, but not always. It's urban, cities, walking, cycling, all that sort of stuff; it's largely visual, so design, toys, shop-fronts, whatever. There are certainly boundaries to it. We very rarely go into music or art as in paintings, so there are boundaries, but they can be very flexible, very fluid."
"It's about place and humans," says Eddy.
"There's an element of quirkiness to it," continues Jack. "It's always meant to be a creative response. We're not conservationists. It's not like the Twentieth Century Society, but we have occasionally gotten involved in campaigns that other people are doing because we felt we couldn't help it."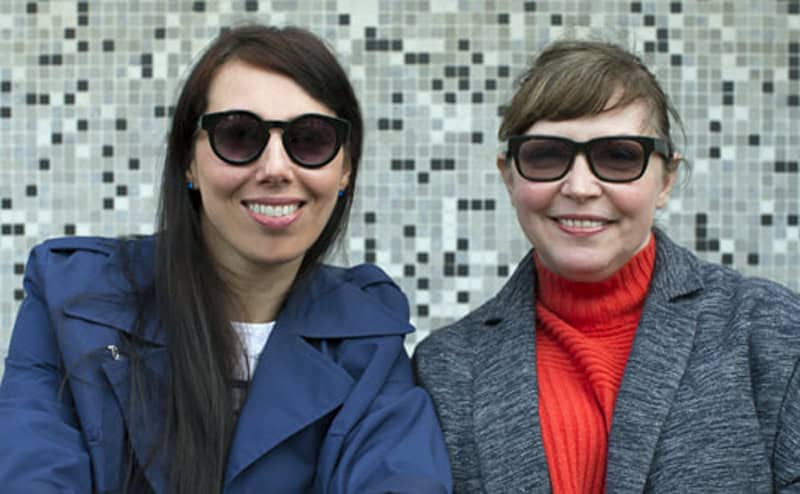 Our upcoming shindig with Colours May Vary launching the Leeds Modernist Society takes its cue from this last point being a live Q&A with Esther Johnson and Leigh Bird about their social history film and exhibition project, Ships in the Sky.
Growing out of the campaign to save the late Alan Boyson's murals for the Hull Co-operative Department Store, it chimes with one of the Modernist Society's earliest campaigns to save another of the ceramicist's murals, Tree of Knowledge at Cromwell Road School in Salford.
"One of our big things is a sense of place," says Eddy. "I don't like how (Manchester) is going. I don't know how you feel about that in Leeds, but we do try to challenge things sometimes. Mostly we just keep it bright and breezy. We're not into campaigning or winding anybody up. It's got to be a positive experience."
The free launch event in Leeds promises to be very special indeed, but it is a toe in the water. The CV is throwing down the gauntlet to those who have expressed frustration in the past (i.e. moaned) at the lack of a Leeds Chapter of the Modernist Society. We owe a huge debt of gratitude to Andy and Becky at Colours May Vary for saying Yes without flinching when we asked them.
It is for the rest of you to make it concrete…
Leeds Modernist Society Launch | Ships in the Sky is at Colours May Vary, Munro House, Duke Street, Leeds on Wednesday 24th October 2018 at 6.00 pm. FREE EVENT (suggested donation £3) but booking is essential via here.