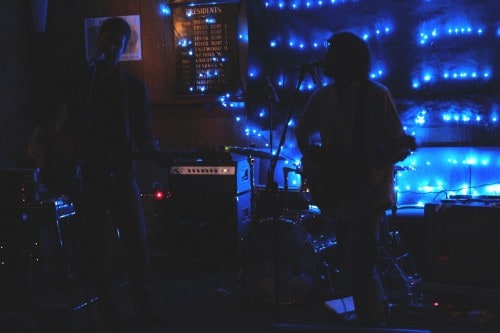 Cass McCombs at Brudenell Social Club, 4th March 2012
Cass McCombs played in the smallest and cosiest room of the Brudenell Social Club on a lazy and wet Sunday evening. When I arrived the room was already packed and seeing people sitting on the floor anxiously waiting for him to come on made me smile. The atmosphere was very relaxed – perfect for a Sunday evening. Just a few minutes after 9 o'clock, Cass McCombs appeared on stage and decided that in order to continue and be completely immersed in this chilled-out ambience, all the lights had to be turned off. So with all of them switched off and the room lit only by the tiny bright blue lights (looking a bit like Christmas tree decorations) hanging at the back of the stage, the Games Room began to be completely flooded with melancholic melodies.
The fact that the room was in complete darkness stopped me from taking any good pictures – or at least, pictures where you can actually *see* someone! At points I even felt sorry for the small "click" sound that my camera was making in a vain attempt to capture a part of what I was witnessing. I didn't let this bother me however; the mood was too intense to be distracted by such futile concerns and it seemed like an fitting part of the experience.
Playing mostly songs from 'Wit's End' and 'Humor Risk' (both released in 2011), Cass McCombs proved himself a great musician and artist, able to easily switch from nostalgic ballads like 'Robin Egg Blue' (my personal favourite track from 'Humor Risk' and the next single to be released), to caustic and provocative songs like 'Love Thine Enemy'. The beauty of this performance captured the crowd and it helped us to disconnect from the world for over an hour.
With wistful sounds and emotionally profound lyrics like in the case of the stunning performance of 'The Same Thing' where he repeats (with an almost comforting tone) that after all, "Love and pain are the same thing", the audience were carried away. The brilliant set concluded with a performance of the broken-hearted 'County Line', one of the songs that I longed to hear live. And on the fading notes accompanying the striking lines "Hoping nothing's changed / That your pain is never ending", I found myself literally speechless and wanting to hear more and more.
I wish Cass McCombs could make the greyness of Sunday evenings fade away more often.
Nicole Paciello (@nicoledandy)