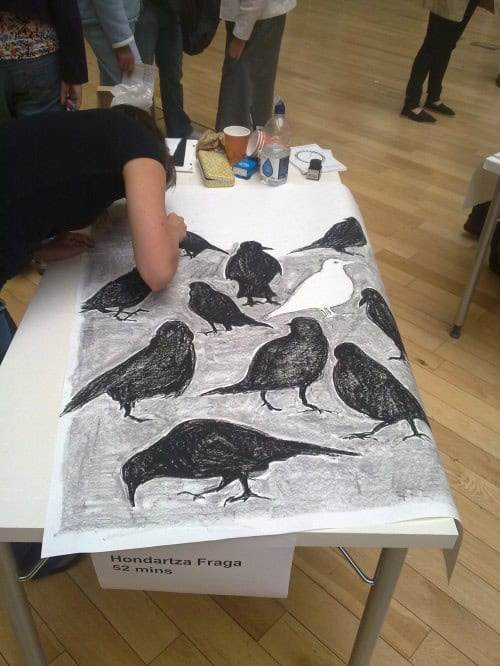 You'd sooner find me in a Lady Gaga video, wearing nothing but a monocle, a scrapyard bracelet and a strategically placed strip of security tape, dry humping a life-sized effigy of the Goat of Mendes, than you would in a "boutique shopping experience." In fact I haven't stepped into
Leeds Corn Exchange
since those nice people at Zurich Assurance turfed out the scruffs, dandies and oddballs a couple of years ago, banned the new shops from selling anything Goth/Pagan/fetishistic, and turned the place into a mausoleum of meretricious, middle class, magnolia mediocrity. Where's an ordinary Leeds guy got to go these days to buy a gimp mask and some artichoke flavoured condoms anyway? Actually, I can answer that; probably around the corner, at the newly opened Birds Yard on Kirkgate which seems to have the spirit of the old Corn Exchange, gaudy and gorgeous and just a little bit louche. You can even buy a chair with Victorian porn upholstery! That's what I call genuinely "creative, innovative and independent," not the soulless, soundless, sensory deprivation chamber that the lovely folk who direct the development of Leeds seem to think we deserve.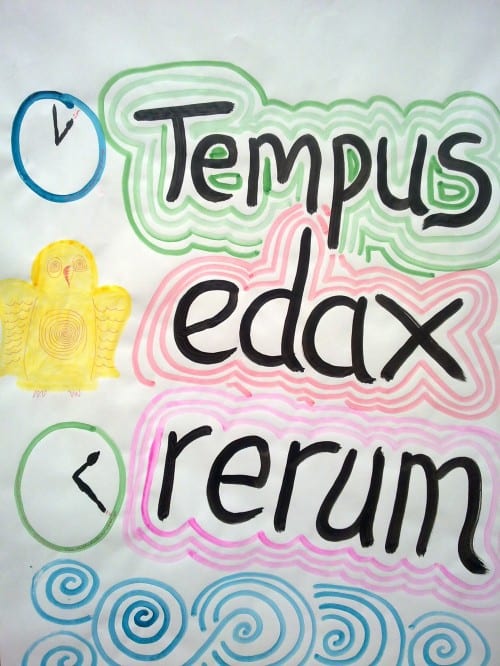 Like I was saying, the Corn Exchange isn't the sort of place anymore that anyone with the slightest sense of pride in the city, the least smidgeon of aesthetic feeling, or the merest hint of social historical awareness, would consider crossing the street for. There's just nothing there for us. Too sad to even contemplate. So I was a little surprised when I heard that Art in Unusual Spaces were holding some kind of event there last Saturday. Excited too, and just a little bit anxious. Would it be tasteful, reverential, and a tad tedious, just to fit in with the prevailing atmoshere? And would the thing actually work? I mean, live drawing . . . erm, literally watching paint dry. They were even making it into some kind of competition too, something about allotting the artists anywhere between a minute and an hour to complete a piece that would be then placed in the balcony, each successive piece marking the extra time passed in its creation. Creativity against the clock has never really interested me, and I know if I'd tried it I'd still be sharpening my pencils and colour coding my crayolas as the final gong sounded. I went along happily but secretly with a little trepidation.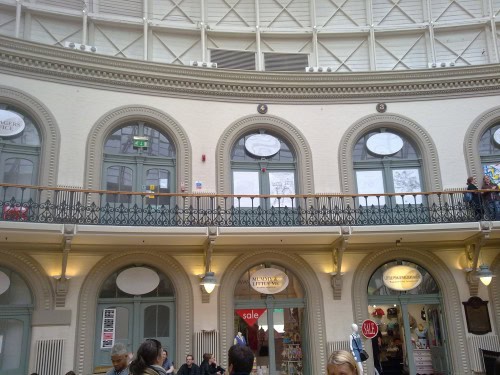 The event had already started when I got there with a couple of friends (we'd stopped off at La Bottega Milanese for a coffee first and hung around far too long, nattering, like you do) and there was a genuine feel of purposeful energy and giddy fun in the air. A couple of drawings were already up, and though I couldn't make out exactly what they were from the ground floor they did look interesting. The place seemed pretty full, not the packed, seething hordes of a few years ago but a good number and obviously not just the usual sort of crowd you get at some arty events, friends, family, followers, the usual suspects, but there seemed to be plenty of people who had simply come along to take a look, out of sheer interest. Proper punters. Each artist had a table, and they were all bent over intently working with pencils, paints, markers, scissors; one guy was even twisting what seemed to be copper wires into a kind of figure and another seemed to have scorched an image into the paper. Or at least there was a whiff of something lingering in the air. There didn't seem to be any theme. As I passed from table to table I saw simple sketches, colourful drawings, elaborate imagery, quirky visions, jokey doodles, deep and meaningful messages. What impressed me most was that as the artists worked they kept up a constant good humoured conversation with whoever happened to be circulating by, and didn't seem at all bothered to be asked "what are you drawing, then?" for the seventeenth time that afternoon. There was a remarkably good spirit in the air and everyone seemed caught up in trying to make the event as playful and enjoyable as possible. I'm glad to admit that I was thoroughly and completely wrong about my original assumptions. It couldn't have been any better.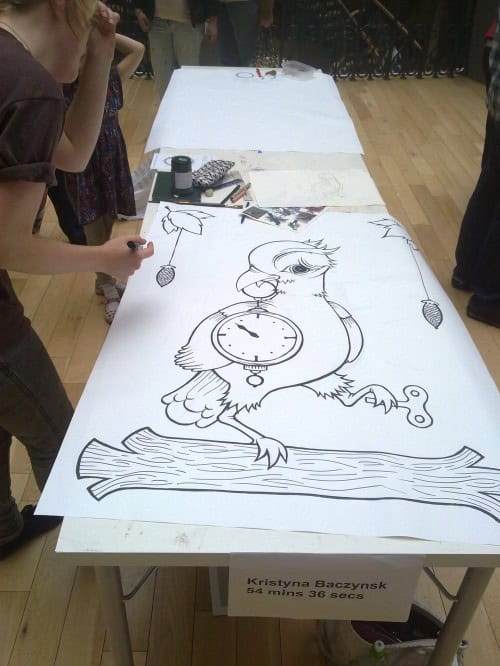 Obviously, given the tight constraints, not all the art worked, or at least a few things I just didn't get, but that was fine and I actually felt quite exhilarated that so many artists actually had the gumption to step up and put themselves on the line in front of so many people. And I don't imagine anyone was doing it for any other reason than to be part of something special, some collective, creative celebration of local independent imagination. I don't want to single out any individual effort, especially as last time I extolled the work of an artist on this site (a particularly prickly spray painter of pitiful pooches, our own home-grown angst-hounded Heideggerian dauber of doleful doggies, who incidentally was drawing that day) I found myself on the wrong end of a poisonous barb; I don't relish repeating that experience. But I would say that there's plenty of good stuff to go and see on the Balcony of Leeds Corn Exchange. The exhibition's going to be up for another month or so I think, so there's no reason not to pop down and have a look. A pity to have missed experiencing the sheer joy of the mad hour of making art but I think that anyone who sees what can be done with a bit of organisation, imagination, and determination will look forward to the next Art in Unusual Spaces event. Let's hope there are many more planned. And next time let's try to get the word around sooner so even more people get to share the fun.