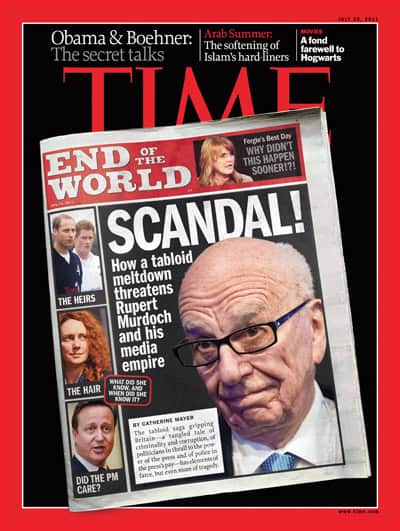 The underhand efforts of Rupert Murdoch and his media empire to run politics – and countries – in order to sell more papers and TV channel subscriptions went unexamined for too long. Finally journalist Nick Davies went up against News International, pulling detailed stories out of the depthless pit of rottenness and corruption underpinning the Murdoch media. Rob Walsh will be getting a ticket to see him speak at Ilkley Literature Festival …
It's rare to meet a giant killer, even if the giant's not dead yet. Nick Davies has gone for Murdoch's giant media empire, and he's winning. On Saturday 18 October he's at Ilkley Literature Festival.
Davies has been the one journalist who has relentlessly pursued the allegations of phone hacking by Rupert Murdoch's News International media organisation, even implicating Scotland Yard as the scale of the hacking and its implications for the media – and for UK politics – grew.
To recap on the convoluted tale.. the News Of The World and other Murdoch papers hacked into the mobile phones of celebrities, politicos and royals to produce privacy-invading news stories that would sell more papers. You could say some deserved it, but you might change your mind if it happened to you.
The story blew up big time when it was discovered the NOTW had hacked the phone of murdered schoolgirl Millie Dowler. Eventually Murdoch closed the News Of The World and its managing editor Andy Coulson went to jail. Coulson had become Prime Minister David Cameron's communications chief, which might be thought to show carelessness or even complicity. Cameron was quoted as being 'very relaxed' about the phone hacking case at that point – perhaps not the wisest choice of words. It could be there's more to come on the Murdoch/Coulson/Cameron links.
Murdoch appeared before a Parliamentary Select committee and admitted a cover up, whilst News International Chief Executive Rebecca Brooks, who got off claiming she 'didn't know….', is now trying to get the taxpayer to foot her legal bills. Gordon Taylor, the chief executive of the Professional Footballers' Association, was one of those suing the News of the World for hacking his mobile. NOTW paid over £400,000 to gag him. There are others who have taken Murdoch's money to stay quiet.
The number of hacked phones is said to run into thousands.
The resultant £5m Leveson inquiry into the culture, practices and ethics of the British press has so far called over 300 witnesses and published a 2,000 page report. Part two of the inquiry – if it happens – is being deferred because of the number of linked criminal prosecutions still to come, which might give an idea of the scale of the scandal.
Murdoch wanted to bypass the democratic process for the sake of his businesses and right wing politics, but he wasn't the first manipulative media baron by a long shot. Hearst in the US, Berlusconi in Italy, and the brothers Alfred and Harold Harmsworth in the UK have similarly dodgy track records.
Through all this Nick Davies has been hammering away, chasing the incriminating details as News International frantically deleted emails and tried to limit damage. His extensive and detailed stories were published in the Guardian, with most of the other national papers staying oddly quiet.
Now Davies has written a book on the story – Hack Attack: How the Truth Caught Up With Rupert Murdoch – and is coming to Ilkley Literature Festival to discuss it.
Given the implications for politics and public life, what would you ask him, when he appears at Ilkley's Kings Hall on 18 October? Murdoch, who has been very much hands on with News International, is now elderly – will News International (now renamed News Corp) survive his passing? Will the media find new and even more unethical ways of pursuing stories? What role did Scotland Yard play in suppressing the story? How much did David Cameron know, when he appointed Coulson as his mouthpiece? What revelations are still to come?
Book for Nick Davies here, or visit www.ilkleyliteraturefestival.org.uk for more festival info.
A version of this article will appear in the new Saltaire Review magazine – available early October 2014.
The whole of human life … had become one mass of crude bulk … to extract and refine in a ruthless search for the most intimate, embarrassing, often painful details which could then be converted into precious nuggets for sale."

From Hack Attack: How The Truth Caught Up With Rupert Murdoch, by Nick Davies