This Obscene Stench of What Happened present three cutting-edge acts for a top night at Leeds' Wharf Chambers.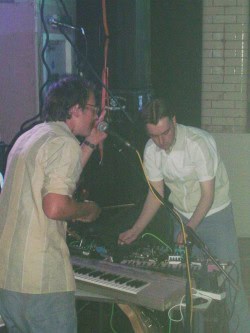 Ironically, my fave act of the night was Zahnpasta Brothers, kind of the North East's answer to The Residents or Negativeland. Kicking off with Barry Lyndon GSOH with a gut-churning industrial low rumble they then add on low-tech synth (think stylophone or early Casio) and sampled voices from radio broadcasts.
For Hound Me the heavily-effected electric guitar goes with a chant-like vocal while for Back in the Day they put out a slow click track with a funny little synth riff (catchy in a corny kind of way) and more overblown guitar.
Bev's Taxis sees the drum machine plodding out something like a bossa nova with droll vocals on top and then Reduction Strategy sees a more post-punk style for a change. One audience member liked the title of their last track, Scottish Deadline, and they openly state their pro-Yes vote to Scotland's independence referendum.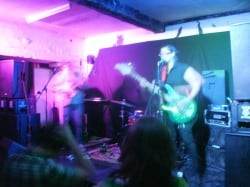 Next up are Beards, a trio reminiscent of early Slits or Au Pairs with their edgy 'pop skronk'. There's an almost tribal element to the drumming, with repetitive vocals and the first three numbers are as yet untitled but very short, punchy and to the point.
Calipers displays some complex and inventive time signatures with a very full-on sound and they end with Chernobyl, nothing like going out with a bang!
The whackily-named Ravioli Me Away, billed as a 'minimalist post punk trio', are really rather funky, a kind of rawer version of Ting Tings. They use a rapid-fire beat to back up an almost Patti Smith-like poetry performance element and of the three acts stand out visually with the bassist in a silver spacesuit and Mohican, drummer in Gothic black and shades, and keyboardist in a garish pink.
It was my first time at Wharf Chambers for a gig and was really impressed with the place, and look forward to the Cops & Robbers organised event on September 21st .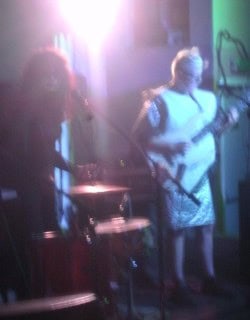 Text & pix: Rich Jevons