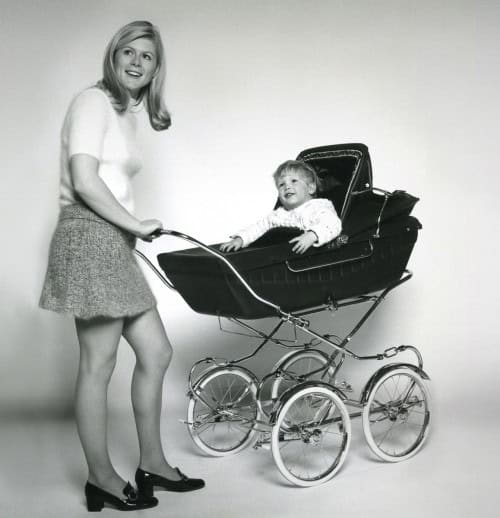 Guest post by Rob Greenland
It was March 1973, and my mum was walking to the shops in Liverpool with 10 week old me in one of those big prams that people had before you worried about whether it would fit in the back of a car. Largely because you didn't have a car. She waited at a zebra crossing. Cars in the line of traffic closest to her came to a halt. She stepped out to cross. Then in the outside lane a man came speeding round the corner in his car, just as we got half way across. She was flung to the ground. Me and the pram hurtled down the road.
Those big Silver Cross wheels took the full force of the car. A passer-by ran down the road, picked me out of the pram and ran with me to a nearby hospital.I was fine. A fractured skull – but when you're a baby and you're still soft in the head that's not too serious. The pram was a write off. My mum was OK, beyond the shock.
The case eventually went to court. The driver was ordered to pay compensation of £100 – and buy me a new pram.
I think that goes some way to explaining why this road safety stuff is personal to me. I can't think of anything I feel more strongly about – because it's something that I live with every day. Every day that I walk with my son to school. Every day that I cycle to work. We have a road culture in Leeds where, far too often, the behaviour a significant minority of other road users either puts my life at risk, or at the very least makes journeys around my city far less enjoyable than they should be.
So what are we doing about it? I'd suggest that as a city we're not doing enough. One the one hand we want to be "Best City", a "Child-Friendly City". But day in, day out, on our roads, it really doesn't feel like we're anywhere near achieving either of those ambitions. And it's not just the Council's fault of course. We need to question the Police – and the Police and Crime Commissioner – about things like enforcement of speed limits on Leeds roads. When did you last see a police officer on a Leeds street stopping people for speeding?
Then, nationally, politicians love to court the motorist vote. Witness for example Labour's shadow transport spokesman – promising that if Labour get in power "there will be no new war on the motorist."
I don't know about you, but as far as I'm concerned, if there's a war on our roads, it's a war on the pedestrian, the cyclist and the child. And that's not just the rant of a man who sold his car three years ago to try and live a bit differently in Leeds. I'm backed up by statistics, shared in a Leeds City Council Scrutiny Panel this week.
In the period January – September 2014 the number of people killed or seriously injured on Leeds roads went up by 11% from 217 to 240, compared to the same period in 2013. The report says:
Child, cyclist and notably pedestrian casualties are all higher than in 2013. (Agenda Item 7, point 3.9)
The report states that over half of pedestrian casualties in Leeds in 2014 were children.   So not only are more people being killed and seriously injured on our roads – the impact is being felt in particular by the most vulnerable people on our roads, including our children. It's no surprise that this year's Children's Mayor talked in her manifesto about the need to protect children in Leeds from the "danger of cars on our roads".
These statistics had been shared because the Council's Scrutiny Board for Sustainable Economy and Culture had asked for more data – in the context of scrutinizing Leeds' current approach to the roll-out of 20mph speed limits.
That's a whole other blogpost – but to summarise Leeds is currently keen on a 20mph Zone approach. They focus on implementing 20mph limits in specific areas, usually with measures such as speed bumps, concentrating on areas around schools, and where there are clusters of road collisions. Whilst such measures may help in specific areas, they do little to influence a wider culture where speeding is common.
Meanwhile, plenty of other big cities in the UK and around the world favour what many would suggest is a more ambitious approach – with default 20mph limits across many of their city's roads. Witness what Edinburgh are doing  for example – or what was announced in London last week.
I went along to the Scrutiny Panel discussion this week – after having had some good discussions on the topic on Twitter in the last few days. I'm sold on the idea of Default 20 because I don't understand why 30mph is OK in one place (on our suburban residential street for example) and not on other streets. I was heartened by much of what I heard. Councillors know this is a big issue – particularly those that represent inner-city wards, where more people walk, and where children are perhaps more likely to play out in the street. One councillor stated that:
"After dog poo, speeding is agenda item number 2 in every community meeting I go too."
On the other hand, the Highways representative and the Councillor with responsibility for Highways who were called to the Panel made it pretty clear that they were happy with the current approach.
They were pretty sceptical about the Default 20 approach that a number of other cities are adopting. They were confident that whilst other cities may be taking different approaches, they were developing something that was appropriate – and achievable – in Leeds. Following the discussion, the Panel agreed to set up a working group – which, amongst other things, will look in more detail at what other cities are doing – and the impact they're having particularly in relation to Default 20mph limits.
For me, all of this goes beyond whether a speed limit is 20mph or 30mph. It's about the kind of city we want to live in. The Best City? A Child-Friendly City? I'm not sure we're on the road to being either of those at the moment.