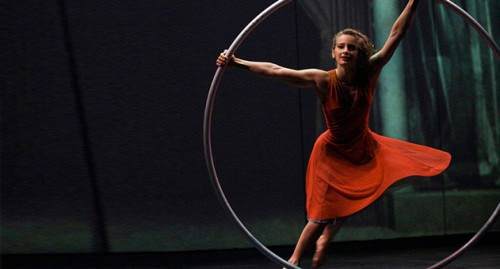 The introduction to Cirkopolis is straight out of Terry gilliam's dystopian vision 'Brazil', a metropolis where a clowning clerk is rubber-stamping papers. This leads to a rather clever magic trick and some skillful puppeteering.
A fog-horn blows and the multitudes in their drab overcoats fill the stage while on the projected backdrop the image of a steam train gets progressivly nearer, as in the early Lumiere film where the cinema audience ran for cover.
At the station the figures are robotic and they ignore the menial clerk before the action speeds up and the acrobatics start. And what acrobatics! Simply breathtaking with perfect balance and almost superhuman agility and strength.
One particularly inventive solo sees a female dancer in a red dress use a large hoop to perform with, swinging and spinning in gravity-defying feats made appear effortless and totally balletic.
Then there is a muscle-bound man who exhibits his strength and is imtated pathetically by the clown to comic effect. And a whole wheel of men turns round with bars that are used like steps with dancers dangerously near in parallel. the somersaults are astounding and the spinning around gets crazily frantic and dizzying.
Throughout there are ballet poses in the most precarious of situations, at the hands of a single or group of performers, on a base of blocks, and these often move into leaps of faith across the stage. Before the interval the fool keeps us theatrically amused playing with a dress as if he were on a hot date.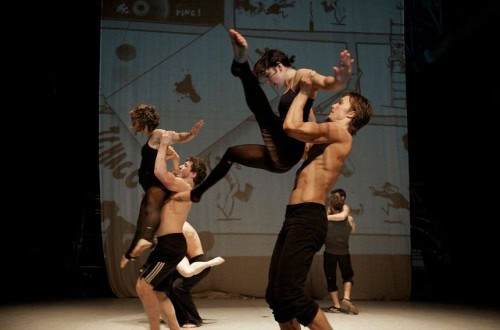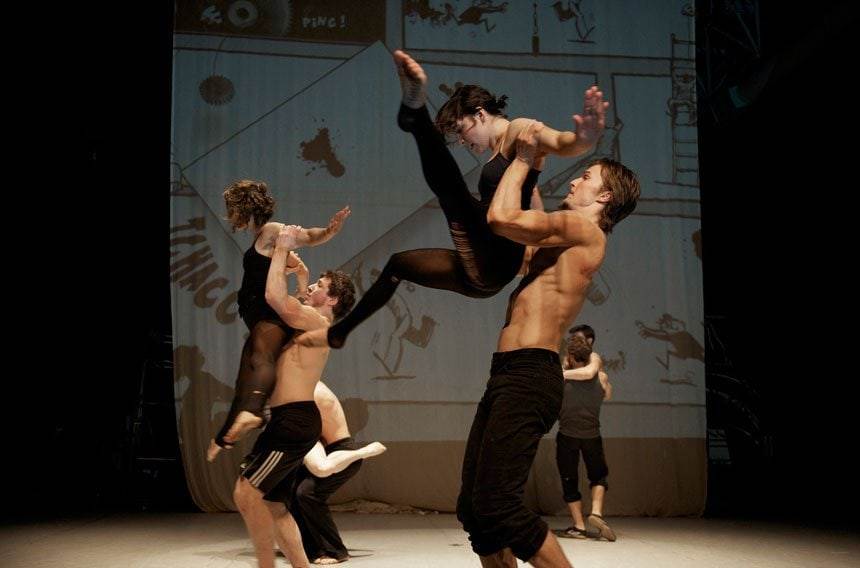 The second half commences with dynamic and daring trapeze work, figures hanging suspended and spinning in fast gyrations. More physical theatre occurs with a silent disco set against mid-air antics that are most amazing when they come back down to earth only a foot or two away from impact on the stage floor with incredible control.
A see-saw also comes into play which is used as a springboard catapulting the performers to be caught mid-air. It is simply a faultless show that comes as a result of decades of training and an organic connection between each ensemble member.
18 March, Alhambra Theatre, Bradford
Rich Jevons