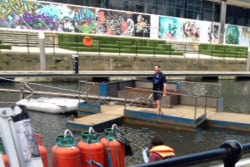 I had been told to expect a bit of show-boating from director Alan Lane. So when we meet to talk about his new production, The White Whale, I am none too surprised to find him aboard a sinking ship, giving a mock salute as the heaving waters of Leeds Dock rise up to claim him. "It's alright," the play's producer Sharon Foster assures me. "This is supposed to happen." As the boat disappears into the churning depths, she turns pale and says, "Okay. That's not supposed to happen." Gulping down a mouthful of Leeds & Liverpool canal, Alan strikes out for the far mooring and gashes his knee while pulling himself up out of the water to safety. (Later this will require a Tetanus jab, but for now Alan improvises a dressing using a Dettol wipe and gaffer tape. Don't try this at home.)
In the time it takes him to walk the distance back around the dock, Calum and Pete, stage manager and engineer respectively, have grappled with their controls and The Pequod (the play is a futuristic re-imagining of Moby Dick) has bubbled back up to its original starting position on the surface, powered by an alchemy of compressed air and marvel. Alan is all ready for another go and spends the next five minutes hurling himself on and off the floating structure while being filmed by members of the crew.
Alan Lane is some machine. Sat in the makeshift space, which the Slung Low production team will call home for the next few weeks, he shrugs off the injury to his knee – still clearly causing him some discomfort – as all in a day's work. On the walls, the detailed schedule sheets tell of the three weeks he has left in which to realise the production. Alan is incredibly focused. He thrives on pressure, but he knows The White Whale is a huge undertaking: "it's certainly the most difficult thing we've ever done," he says. "It hurts, physically hurts."
A story of revenge on the high seas, Herman Melville's novel has been reworked by playwright James Phillips into a dystopian allegory set ten years in the future. "Fracking hasn't worked, the oil's run out." Whales are hunted on an industrial scale because, with new technology, the oil in their brains can be made to go further. The potential to explore bigger ideas is evident. "We're into all sorts of questions about what we do to this planet, about leadership, and who or what we're all responsible for," says Alan.
Much of this he ascribes to the writer who, he says, has condensed a challenging doorstep of a novel into a theatre experience lasting seventy minutes. "It's a beautiful play, it's a brilliant play, I think it may well turn out to be a profound play." There is a pause before he adds, "I haven't ruined it yet, we'll find out."
Environmental and moral concerns aside, Alan is characteristically open about his primary motivations in staging the play: "If you're a twelve year old kid and you've never seen a piece of theatre before, I want you leaving thinking that all theatre should involve massive water effects, people jumping into rivers and speedboats."
A collaboration with Opera North Projects ("a sort of little independent Ewok A-Team style department of genuinely interesting studio and progressive work"), The White Whale also features a specially commissioned score from composer Heather Fenoughty ("brilliant woman"), and sound design by Matt Angove. "The sound is very intimate," says Alan. (The audience will each wear headphones during the performance.) "It feels like radio. And the music has a kind of cinematic quality and that's exciting." (The link with Opera North brings other benefits too in the form of money to pay for a sign interpreter for one of the performances.)
While The Arts Council of England might discuss Slung Low (the theatre company Lane set up in 2002) in terms of its 'bold re-imaginings of familiar ideas,' Alan puts it rather more simply: "Theatre should be exciting for people who don't already think it's brilliant." Warming to his theme he adds. "People should have their disbelief ripped from them, not suspended."
It is an attitude which underpins all of Slung Low's productions to date. Another is its idiosyncratic choice of venues: to Leeds Dock can previously be added a swimming pool, a multi-storey car park or, as in the case of last year's Blood & Chocolate, the entire city of York. "Theatre should be exciting, sexy, bold, and a bit reckless, and not require you to know anything before you arrive," suggests Alan.
He is also apt to bludgeon more traditional thinking about the theatre. He points out that, in virtually every other respect, our lives have been transformed by the modern age, yet theatre remains stuck "like it's from the fifties. Theatre should reflect the society we live in and I'm not convinced that all the time it does."
He is on record as partly pointing the finger of blame for this state of affairs at establishment figures such as Julian Fellowes and Simon Callow. To the list, he adds Maureen Lipman – beloved of Radio Four listeners everywhere – following an interview she has given a few days before. "I don't know how that represents what the West Yorkshire Playhouse is currently doing, but to the vast majority of people in this country, that's theatre. And so they don't recognise it because it just looks funny and weird."
Driven by this desire to be neither funny nor weird, The White Whale features a smaller cast than usual. "It's a seven hander. Our last show had a hundred and eighty in it, and the next will have about two hundred. Whatever is the best way of doing it is what we do." The interplay between the different scales of the cast and setting explodes some of the boundaries of traditional theatre. "On the one hand, the stage space we have is probably the same size as a studio," Alan explains, "but someone makes their entrance from 75 metres away on a speedboat, so there's that constant changing."
Rehearsals are likely to be gruelling and largely in situ. "Everything pretty much will be on the boats with headphones because there's just no point trying to do anything that isn't real. If it gets windy there all of a sudden the thing you've rehearsed is completely different." Alan is probably thinking about events earlier in the morning when he says "we have to have very sensible, really brilliant and independent actors. They have to make good choices for themselves."
Working in such proximity together – the cast and crew will move into Leeds Dock on a near permanent basis in the coming days – you might be forgiven for thinking it is bound to take a toll. The parallels with Melville's work may run deeper than first appears. Alan ponders this for a moment. "In that sense, I can really empathise with The Pequod – a group of people in an environment that feels cut off, setting about a mission that large groups of people think is difficult if not impossible."
Mostly though the story saddens him. "They're all destroyed in the end because they have no fraternity." He sees the play as addressing some founding principles of Slung Low. "The stories we make are about being better to each other, being more responsible." He fixes me with his gaze before stating simply, "You're saved by your humanity."
The White Whale by James Phillips is performed 4th -14th September 2014 at Leeds Dock by the Royal Armouries. Tickets are sold out. To join the reserves/returns list, please email jane@leedsinspired.co.uk