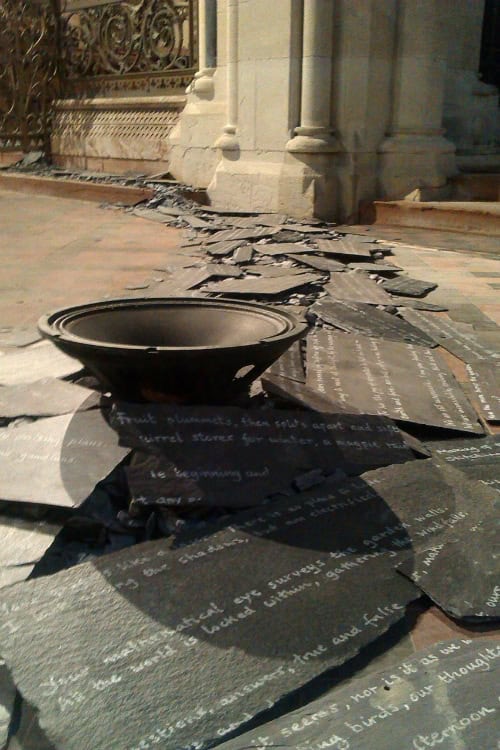 Memorable encounters in car parks, churches and on hilltops
Kara McKechnie says You Owe IOU a Visit! …
(This review was nearly called 'an inconclusive bell strikes', but I would have been shouted down by sensible Yorkshire people, so I've resorted to a pun and will wear all your groans like a flower in my hair.)
I like IOU. I will happily go and see anything they put on in any conceivable space. It was my colleague Wendy who had written about their work and introduced me to their weird worlds back in 2001, re-enacting some scenarios and showing me photos in our shared office on a boring Monday morning. She was a good mimic, so I was probably convinced of IOU's appeal before I even saw them. This has made me remember the strange places in which I've found myself, experiencing IOU performances over the years:
I remember a huge empty car park for Tattoo in 2003, late on a cold spring night. This was a preview for a piece made for huge crowds, so all twenty of us had to pretend we were thousands as a huge jellyfish float moved nearer, throwing out bubbles, sound and light effects, surrounded by strict-looking guardians with insect masks.
I remember (after) sitting at the top of Beacon Hill for the finale of Electric Field in 2009, looking down on Halifax way below. We had been taken on a mystery coach trip during the interval and a tune from the first part at Dean Clough was still playing in my ear. We heard the distant sound of an ice cream van. Ambient noise? Or part of the performance? We strained to hear – and suddenly the van's jingle matched the tune I was still hearing in my head. Church bells sounded from below. Surely just a coincidence that they also joined the harmony? Who knows – and IOU are not famous for providing clear-cut answers. Instead, they might just send round a man who is half beetle, half sports car, or some strict owls (both seen in Waylaid, 2006) – or a giant leech who sucks on your leg and increases its size to one that can hold a large car (The Leech, Bradford Mela, 1990s).
Long Division is IOU's contribution to Halifax Festival. It is an installation and started off as in Oxford Botanic Gardens and then went indoors to Salisbury Cathedral, no less. Now it's in a church that would elicit a eulogy from me if I was writing an architecture review (or if I had the faintest idea how to write an architecture review): All Souls in Halifax, on Haley Hill. Designed by Sir George Gilbert Scott (St Pancras Station, the Albert Memorial, [and Leeds General Infirmary! Ed]), it is an island of Victorian Gothic glory, inside and out. This wonderful church is now looked after by the Churches Conservation Trust, but time and lack of use have eaten away at it nonetheless. It is closed most of the time with an unclear future. I think about the axis between All Souls church, the millworkers' cottages a bit further down the hill and the huge complex of Dean Clough Mill in the valley (IOU's headquarters).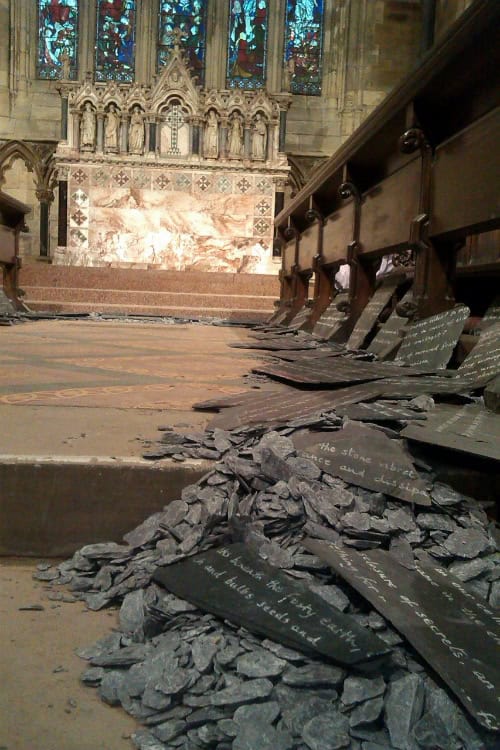 This church was commissioned by industrialist Edward Akroyd, alongside his model village 'Akroydon', built to improve the lives of a growing mass of workers and their families. Does this remind you of Saltaire yet? The workers have long gone, the spaces of the village and of the mill have been 'diversified'. We walk into an empty church, filled with ghostly voices and it is easy to imagine that they belong to its past congregations. Writer Louise Oliver's sixty rhymed couplets have been fragmented aurally and materially: while listening to the whispering voices (thanks to a hundred small speakers spread around the choir stalls), you can see the poetry, decipher bits of it, walk over and through the fragmented pieces of slate that line the choir pews and move out towards the edge of the nave. The piece does not tell a story and does not work with characters, but after a while, I started shaping the fragments I heard and saw.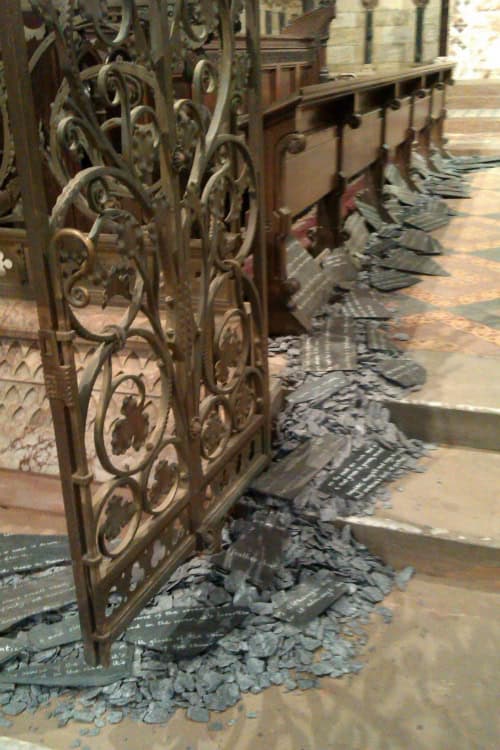 An inconclusive bell strikes – the church bell? Is it part of the sound world we're immersed in, crouched in the choir stalls? A whispering female and male voice take turns, mingle, are almost inaudible, become part of a soundtrack of swirling, whooshing sounds, punctuated by a constant drip or ticking clock in the distance and – more acutely, the sharp sound of a bell, which structures the piece. Poetic exchanges are compartmentalised into the restraints of time, but still manage to be dream-like. One sound might be a distant church choir, and just as I look up at the sad ruin of the church organ, I hear what I imagine to be its ghostly sound. What about the passing ambulance – is that…? No, that is outside – it must be?
Just one tip in order to let the serenity and other-wordliness linger: don't go shopping at Lidl straight afterwards. It punctures the experience I've tried to describe just as much as that last sentence punctures this review.