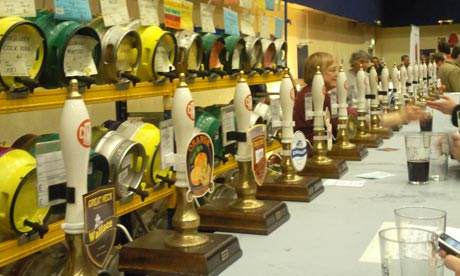 This weekend is the annual festival of Beer, Cider and Perry in Pudsey.
This wonderful festival showcases scores of ales from all over Britain (and some from Europe, too) and is running at the innocuous location of Pudsey Civic Hall – just a 10-minute ride by train from the city centre.
The set up is simple, you pay the small entry fee (varies depending on the session) and then buy some beer tokens, grab a souvenir glass and get drinking.
The beers are stacked in their barrels on a scaffold with a makeshift bar set up along each side of the room.
If you know your stuff, you will be able to make an informed choice about your beer and what to try. If, however you struggle to tell your milds from your barley wines, you will have to find other ways to make your selection like reading the tasting notes in the programme or just picking from the silly names/ pictures on the pump badges.
For the uninitiated, a beer festival like this is a great way to try a few different beers, the volunteer bar staff will happily give you a drop of anything you wish to try and then you can buy your beers in measures as small as 1/3 pint meaning you can get around to trying more things.
There is also the biggest tuck shop you could ever wish to see, for all your crisp, nut, chocolate and pork scratching needs and a hot food stand for portions of pie and peas or chilli and chips to stave off the beer munchies. And if drinking beer isn't fun enough, there are live bands playing in the evenings for entertainment.
According to the figures published by the British Beer and Pub Association (BBPA), beer sales continue to be in decline. However, real ale seems to be bucking the trend.
I think real ale has got a bit of a bad image, as only suitable for beardy old men. This is such a shame as I love real ale and I think younger people – ladies especially would enjoy it if only they gave it a try.
Real ales are not not fizzy like mass produced lagers which makes them much more drinkable, and the flavours are rich and complex, some sweet, some fruity and some even with chocolate and caramel flavours. Also it is worth remembering that 90% of beer drunk here in the UK is brewed in the UK, so it's good for the economy too!
The Leeds Beer, Cider and Perry festival website can be found here with all the details.