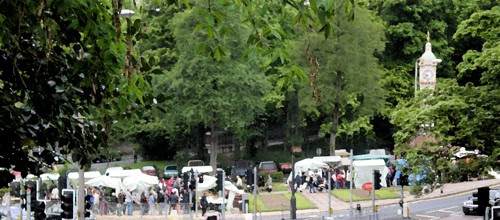 Guest blog post by Mike Tattersall of Indie Ices
Mike tell us about Oakwood Farmers Market
It was set up by the Roundhay Environmental Action Project (REAP), it is run by local volunteers for the community. It's held at the site of Oakwood Clock in Roundhay Park on the morning of every 3rd Saturday of the month. The market committee has worked hard to ensure that the market traders chosen are of high quality, both in terms of their customer service and the goods sold. They have also secured FARMA accreditation for the market. The monthly event provides a focal point for many local interest groups as well as an outlet for the community to meet local councillors and even, from time to time, the local MP. REAP have a stall at the market that seeks to help people understand the benefits of recycling, environmental issues and encourage involvement in local environmental projects such as shared garden schemes. The stall rents provide entertainment, leaflets and promotion of the market to the community along with other REAP projects.
The market has been welcomed by local shopkeepers, the Co-op encourages market goers to use its carpark and surveys have shown that trade, generally, increases when the market is on. This is in stark contrast to what Leeds City Council would have us believe about the future of markets. Shoppers at Oakwood Farmers' Market will tell you that what they get from the market is a friendly experience where they can take time to talk to traders and other shoppers. They can have a coffee and a chat with neighbours and friends – we are helping to recreate a community spirit at a time when many feel isolated and dissociated from others.
What's this about a party?
We would like to invite you to come along to our 3rd Birthday Celebrations on Sat 19th March between 9 am and 12.30 pm. Come and see for yourself what can be done when people are motivated to create. Have a look at our website www.oakwoodfarmersmarket.com and see what we've been up to.
And a double celebration?
Also I have set up an event on the eventbrite site as it is also indie ices 2nd birthday on the same day.