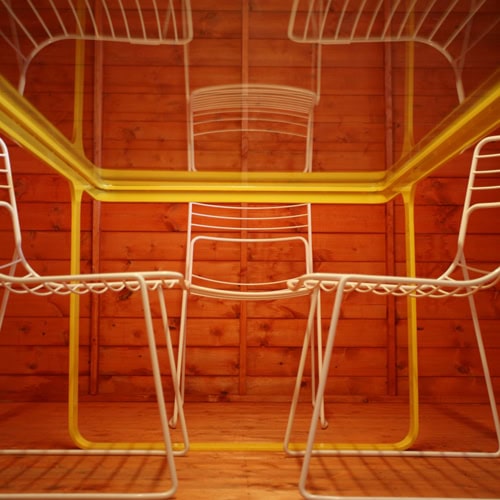 Got five minutes to find out? In the first of this regular feature we stick our beaks up against the window of Leeds-based furniture designers naughtone, who amongst many other things have been producing furniture for James Bond – now that sounds pretty cool to us!

What are you all about then?
We're all about producing unique furniture, which is designed and manufactured in Britain, and is sold through retailers and dealers across the world. Our ethos is to produce beautiful, useful, products made with quality materials.
Who are you?
We were set-up by designers Kieron Bakewell and Mark Hammond in 2005 – our reputation and size have grown since then and we now have a team of about 30 people.
What do you do?
We produce a distinctive range of products, which are borne out of our commitment to meticulous design and the progression of traditional skills.
One of our most iconic designs is 'Pinch', which you can sit on or straddle with no suggestion of back, front or side. Its playful character and immaculate upholstery really embodies what we do.Another one of our recognisable designs is the 'Track' sofa, with unique upholstery that gives it its name. We've just finished a project for a waiting room in London which features a bespoke 'Track' island and 'Track' armchairs – it will be opening very soon.
Who do you think are cool?
As designers ourselves, we appreciate good design, and whilst we've come into contact with a great many companies over the years, there are two that really stand out for us in Leeds. One is  Attik, who produce some amazing stuff and the other is Propaganda, another great design company who we really like.
What's coming up?
This year we're going to be working with O2 stores and the BBC, and most years we get involved with TV and film set work. Last year our furniture appeared in the James Bond film 'Quantum of Solace' and we also designed specific furniture for the 'Big Brother' house.
In terms of new products, we've got the 'Trim' seating range, which is designed by Stefan Bench and has great character.
We'll also be exhibiting at two London shows- 'Design Prima' and '100% Design' and we'll be unveiling some other new designs later this year too.