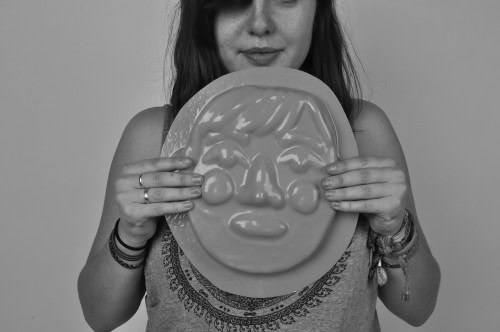 Caitlin Ashton is an illustrator from Leeds, now based in Bristol, having recently graduated from Bath School of Art and Design where she studied Graphic Communications. Her work is tactile, playful and interactive, with fun projects including Hide and Seek, Eat My Work, and Libby – an illustrated story about a little girl who has an old man living inside her head.  Wendy Denman found her hiding behind her beautifully designed October banner where she whispered the answers to these questions.
You clearly enjoy featuring sensory elements in your work. Personally I LOVE the smell of Play-Doh. Do you have any favourite art materials you love to work with for their tactile, tasty, beautiful, aural or fragrant ways?
I love working with anything touchy feely. Cutting, sticking, finger painting. I like eating Pistachio nuts as you have to crack the shells to get in to the good stuff, and you're allowed to eat with your hands. If that link makes any sense, thats how I like to make my work. I like my work to be handled, unfolded and nicely packaged. Play-Doh is great fun too, along with blow pens and crayons.
I love the individual jelly moulds you created called 'Eat My Work'. If you could eat anyone else's work, whose would it be and why?
I would start with a light salad of Lizzy Stewart, have a hearty main of Richard Scarry, and for dessert a generous slice of Saul Bass. All washed down with a refreshing cocktail of Nous Vous.
Would you like the ability to draw the future, and if so what would it look like?
If I could draw the future it would be colourful, leafy with an even temperature. Though I would struggle to draw 'even temperature'…
What do you miss most about Leeds?
Things I miss about Leeds would be Fuji Hiro, a Greggs on every corner, Little Tokyo, chips and gravy, and drinking £1 pints on the roof of a boat. After that, my family and friends.
Play Day, Sea Spray, Santa's Sleigh or Bryan May?
Sea spray. I like water. Closely followed by Bryan May. I like lengthy guitar solos.
*****
Caitlin tweets as @agirlmadasbirds. You can find out more on her website: www.caitlinashton.co.uk