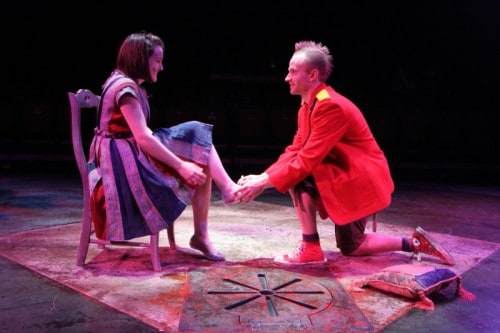 At the end of last year, myself and my little girl braved the freezing cold temperatures and icy pavements to make a trip into Leeds City Centre. To be totally honest in any other circumstance we probably wouldn't have bothered and would've just stayed in the warmth of our house wrapped up on the sofa under a snuggly blanket watching films. But on this particularly frosty day we had a very important job to do and the sofa would just have to wait. For that was the day that my 6 year old had her very first journalistic assignment, helping mummy to write a review of Cinderella showing at the Courtyard Theatre in West Yorkshire Playhouse. So off we set, filled with excitment and anticipation!
We made it safely to our destination without falling on our bottoms and settled down to watch – the young reviewer being very impressed by the booster cushions provided to the smaller members of the audience to make sure they could see over the heads of those in front of them!
Director Gail McIntyre and writer Mike Kenny have built up a reputation for imaginatively staged productions which offer a unique perspective on traditional tales and have, in previous years, delighted families with stories including Beauty and the Beast and The Snow Queen. The unique twist in this case is that the story is told from the perspective of the rats; Ears, Teeth, Claws, Whiskers and Tail, who befriend Cinderella and make their home in the cellar kitchen with her.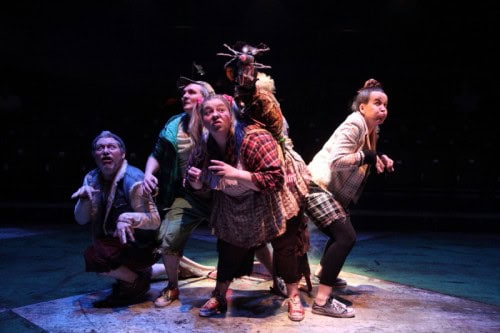 The story was told in a refreshing schmaltz-free manner with a stoical 'Northern' attitude. It also brought to mind the work of the wonderful Angela Carter, for in this production it is the memory of her mother that encourages Cinderella to go to the ball – no need for glittery fairy godmothers here when a mother's love can help win the day!
The makeshift set and costumes that appeared to be cobbled together from discarded objects were fantastic, appealing enormously to my diy craft aesthetic! Notable pieces included the wonderful carriage created by the rats and the transformation of the stage into the ballroom complete with twinkly fairy lights and metres of handmade bunting before our eyes during the interval.
The only downside was the that the first half seemed a tiny bit long and some of the wee ones were starting to get a bit restless by the time the interval came around. But that aside I can safely say that this was one of the most refreshing, uplifting, touching and humourous productions of Cinderella I have ever seen. The young reviewer was captivated and enchanted and now we have another big reason to look forward to next December – we can't wait to see what will be on at the West Yorkshire Playhouse!
So what did the young reviewer think of it all then? Here are some of her comments:
"The rats were very nice and not scary. They were very kind to Cinderella when she was sad. The Ugly Sister were horrible to Cinderella so I didn't like them but they were funny when they were singing. You should always be kind to people"
"I really liked all the songs and when we got to wear the whiskers masks at the ball. It was very pretty especially all the lights up the ladders. "
"It was funny when the rats came to say hello at the start – they were very twitchy!"
Image Credit: Toby Farrow