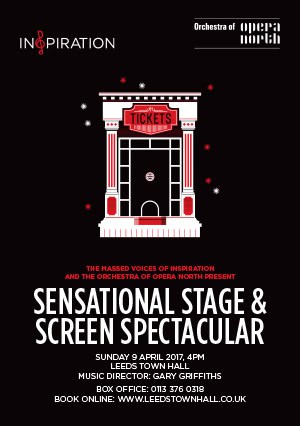 Holly Spanner reviews The Massed Voices of Inspiration and The Orchestra of Opera North in Sensational Stage and Screen Spectacular at the Leeds Town Hall…
Accompanied by the Orchestra of Opera North, the full might of The Massed Voices of Inspiration, a large community choir known for celebrating the power of song, was heard with a splendid selection of music from stage and screen. Presented by BBC Radio Leeds Liz Green, a multi award winning broadcaster and journalist, the programme comprised a varied selection of music from Disney to Beethoven. There was something for everyone, including a beautiful, strong medley from Beauty and the Beast, and a substantial selection of songs from arguably one of the most significant musicals of the C20th, Showboat. Music from Die Hard, Titanic the Musical, Sister Act, Pippin and Last of the Mohicans was all well received.
As the hottest day of the year so far, spirits were up and the audience relaxed after a lazy day in the sun. It was therefore easy to feel uplifted by Oh, What a Beautiful Morning and embrace the energy from the Oklahoma Medley; the set list could not have been chosen better.
Named by Time Magazine as one of the most influential people in the world, actor, playwright and composer Lin-Manuel Miranda is credited with writing perhaps the biggest musical of modern times, Hamilton. His recent collaboration with Opetaia Foa'i and Mark Mancina has created the soaring music for Disney's Moana, and it was an absolute treat to hear Know Who You Are and We Know The Way with the 200 strong choir and full orchestra. Act I finished on a high with a medley from My Fair Lady, ensuring the audience were left humming the Lerner and Loewe classic over the duration of the interval.
There was not a weak link in the entire evening, and the programme was very well put together. Dry Your Tears, Afrika (from the film Amistad) built on the joy from the previous numbers, Take That's Shine and What a Feeling from the musical Flashdance. Soloist Penny Wilson moved the audience with her heart-breaking rendition of With You from the musical Ghost, while the clear voice of Anna Stothard sung of unrequited love in Eponine's solo, On My Own.
Time spent with Opera North and The Massed Voices of Inspiration is undoubtedly the perfect way to while away your evening.