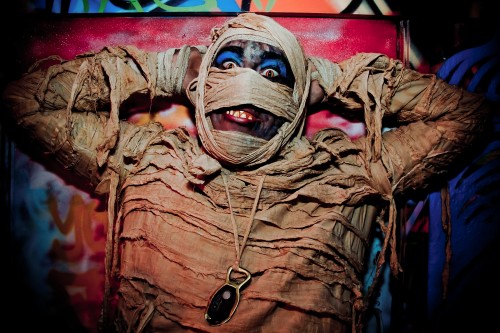 Minicine programmer Woody (Twitter – @MawScrawl) is attending this month's Sneaky Experience event. (Image above taken from Sneaky Experience's Raiders of the Lost Ark screening)
I'm off to my first Sneaky Experience this weekend (Sat 10th March) so I've been asked to write a few words about what I expect from the event. Truth is I really don't know what to expect, I don't really know that much about it. It's a bit sneaky like that.
The small morsels of information I do know about it are that a Sneaky Experience is an event themed around a film; this month's event will feature a DJ… with a difference and…actually that's pretty much it. I don't even know where it's being held. There are clues posted across Facebook and Twitter but so far I'm still none the wiser.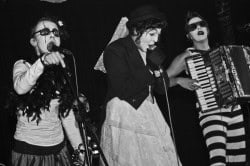 But I'm excited, it's quite a leap of faith to commit to something you know nothing about. It could be a success, it could be a failure. There is a video on the Sneaky Experience website highlighting their last event (image left), which was themed around Dawn Of The Dead. It looked like a successful night and everyone in the video says as much. Whether or not any of these people have been seen or heard from since that zombie infested night has only briefly crossed my mind.
If I manage to make it out alive I'll be posting a write-up next week with some of the sordid details about the secret party. I'm banking on it at least being better than the 'secret party' Tom Cruise attended in Eyes Wide Shut. Because that was rubbish.
If you'd like to experience the sneakiness for yourself there are still tickets available so head over to their online box office and get them before they're gone.
Until next time (I hope there's a next time).
– Woody
Mike McKenny is The Culture Vulture's film editor. If you have any film related stories, articles, reviews with a twist, etc, contact him on mike.mckenny1983@gmail.com or find him on Twitter @DestroyApathy