Rachel Noon went to see Space F!ght Vs. Shatner's Bassoon at Wharf Chambers last week …
When you come across a band described as "experimental sci-fi jazz" it is fairly difficult to imagine what to expect without going down the whole Doctor Who route. Musically talented daleks can't happen, nor can vocally brilliant cyber men, surely? For me, this style was something that needed to be delved into.
A sigh of relief as we entered Wharf Chambers. After battling with a sleet storm outside we were welcomed with sweet festive scents and mulled cider. We stepped into a further room to see stand-alone lampshades dangling from the ceiling, half torn vintage posters, tiled floor space taken up by an abundance of instruments and sound equipment, as well as a stage occupied with a multi triangular, three dimensional prism … not quite the Doctor Who-esque set up that I had pictured but nevertheless, so far so good.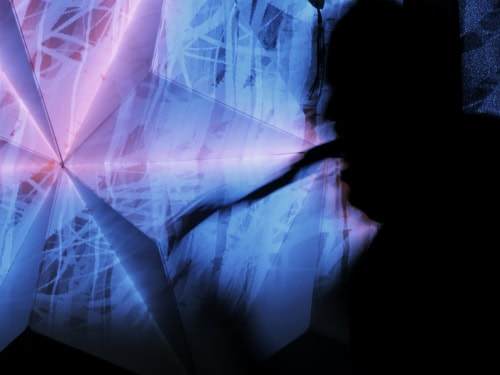 We are here to listen to the distinctive sound of Space F!ght, a four-piece band, created by Mr Electronics, Radek Rudnicki. A melodic muddle of saxophone, percussion and electronic hardware, as you can imagine, creating unique blends of improvisation. Data collected about the ozone layer influenced their music style which was shown through both music and 3D visualisations, highlighting the dangers of pollution to human health, hence the unusual 6ft pyramid on stage.
This is the sixth and final night of Space F!ght's November tour. First to perform are Leeds based band, Shatner's Bassoon, whom I have been informed are advocates of the 'anti-funk' sound. Ollie Dover leads the troops, through both woodwind and vocal pipes, backed up with what can only be described as determined drumming and erratic yet purposeful keyboard playing, resulting in a lack of music sheets and a fallen cymbal.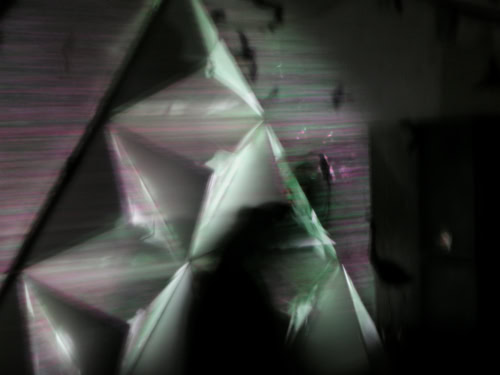 Annoyingly for me, it was hard to initially get my teeth into. There was no doubt that I was appreciating their sheer skill of tentative rhythms and, what seemed to be, telepathic timings between them. But after much uncertainty in the regularity of rhythm, the audience, as well as myself, appreciated a steady head-bopping beat, post-crescendo, which really was what I was waiting for. I seemed to have missed the point, music and compositions like this, weren't supposed to be toe-tappingly catchy. Since when was sci-fi ever predictable or expected? Or any form of improvisation. A friend of mine told me that it is all about the anticipation of the 'build up' and not knowing what's coming next … I like it.
After a short interlude the second half commences. Six became three and Space F!ght were left to fill the void. Unpredictably, a more sinister, sketchy and intense mood swarmed the Chambers. Flickering electronics, tuneful saxophone screams from Mercury award nominated James Mainwaring. Anna Edgington offered delicate and haunting vocals samples, with words taken from sci-fi novelist, P. K. Dick, adding a narrative to the songs 'The Name' and 'Monster'.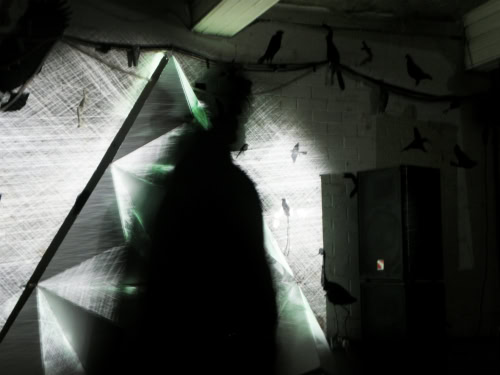 Space F!ght took more of a shapeless approach to improvisation; the musicians reacted keenly to the visual back drop behind them, as opposed to each other. This absorption in the visuals at times led to an alienating experience for the crowd. However, looking beyond the musicians, you too will lose yourself in the stimulating and hypnotic projections, making this no longer a significant flaw in the performance.
Space F!ght made it clear that sci-fi is the way forward, and it isn't at all related to the Doctor. It has simply broadened my perhaps closed mind on the unknown genre of music. It was a pleasure to witness such good aptitude, I am totally converted. Space F!ght have definitely filled a gap in my musical perceptions.