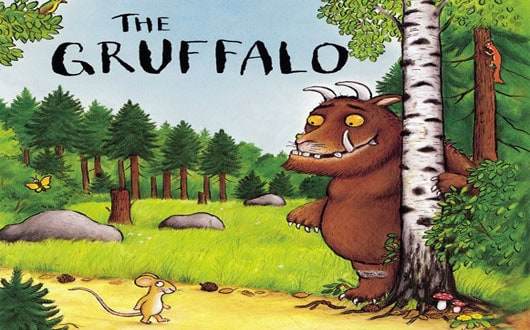 When the live production of the best-selling, award winning, critically acclaimed children's book, The Gruffalo, came to St. George's Hall in Bradford, it seemed a natural rite of passage to take my six year old to see it. After all, she'd been introduced to the story, complete with child friendly rhyming couplets while she was still at nursery. She'd since read the book at school and seen the short animated film on TV.
Of course, the bonus of going to a show designed for young children is the enforced relaxation of traditional theatre etiquette. You don't have to feel self-conscious or apologetic about the obligatory rustling of crisp and sweetie wrappers; or grumpy toddlers being passed from one parent to another, even if it blocks somebody else's view; and the sight of an anxious parent desperately scrambling a child to the loo is perfectly normal!
You couldn't help but notice the number of grown men in the audience, sitting with child on knee, equally engrossed in the story of the cunning mouse, who fabricates a lunch appointment with the fictitious fearsome Gruffalo, only to find himself really being confronted by the hairy, big toothed monster. The surprisingly diverse audience included the most hijabs I've ever spotted in a Bradford theatre, which is simply testament to the story's popularity and appeal.
I was surprised though – disappointed even – at how low tech the one hour show actually was. I know it doesn't take much to entertain little ones and fewer props on stage encourage them to use their imaginations, but I still couldn't help feeling the show had been produced on a shoestring budget. The mouse was barely in costume and the two actors taking turns to play the other animals, made do with very basic costumes, against an equally basic set.
But ask my little girl and she'll tell you the show was highly engaging, with lots of singing, dancing and audience interaction. And best of all, the Gruffalo in "real life" didn't seem as scary as she'd imagined; in fact the monster was "almost cuddly".
Irna Qureshi blogs about being British, Pakistani, Muslim and female in Bradford, against a backdrop of classic Indian films.