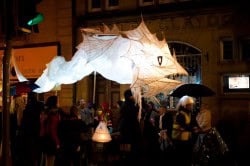 Guest post from Kate at The Book Case in Hebden Bridge
Valley of Lights is billed as a celebration of the Calder Valley, its uniqueness, creativity and its wealth of small businesses. It has been organised as a response to the terrible flooding the valley suffered in the summer, to support local businesses in their struggle to recover and as a symbol of solidarity and  community in the face of adversity.
As the owner of the The Book Case which  flooded twice in the space of two weeks, I've had direct experience of both the misery and devastation caused by the flooding, and the ongoing network of support from local people, organisations  and fellow businesses who have worked  to get the town back on its feet. I'm grateful to the organisers of this event, and proud to be be part of a community shows such spirit and support for each other, and I do feel that despite such a dreadful year that really is something to celebrate!
Valley of lights started  last week with a lantern parade and fire show and on Thursday 29th November moves to Hebden Bridge where the itinerary is
5:30PM CHRISTMAS LIGHTS SWITCH ON
6:30PM LANTERN PARADE
7:15PM FIRE FINALE
7:45 TO 9:30PM STREET PERFORMANCES
4-9:30 NIGHT MARKET AND CANAL BOAT LIGHT FLOTILLA
There will also be the Night Light Bike Ride; a 200 bike convoy, all lit up, travelling from Todmorden to Hebden to Mytholmroyd, with a break for a brew & fun in Hebden. A big spectacular, to celebrate the cycling heritage of the valley, and to symbolically join up the 3 towns.
Visit the Valley of Lights website to get involved.
Lantern making workshops have been run in the valley by the  Hand Made Parade crew, involving the whole community, and if the Hebden Bridge parade is as good as Todmorden's, we're in for a spectacular night!
The Night Market will be made up of local small businesses who were hit hardest by the floods, some  of whom have still not been able to return to their premises. It should be a great experience whether your taking the  opportunity to try local produce from the food stalls, picking up some Christmas gifts, or just soaking up the atmosphere.
If you want any more details of visiting the event, to see some more spectacular pictures or to find out  about getting involved check out www.valleyoflights.co.uk.